Medical services in Govt hospital come to halt in Bengal after attacks on Junior doctors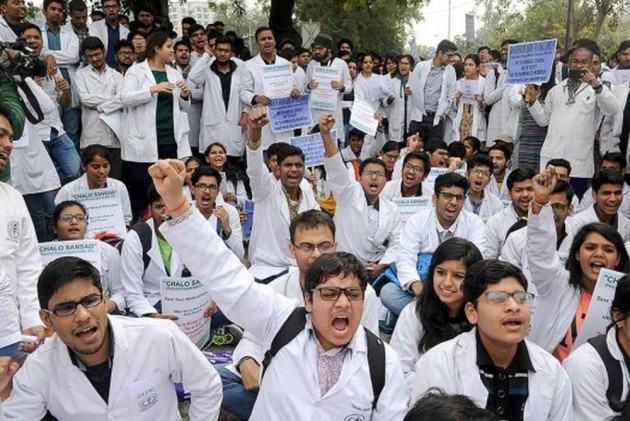 Kolkata, 11 June (HS): Both outdoor and indoor medical services across West Bengal have almost come to a halt since this noon after junior doctors and interns in all government hospitals in the city and elsewhere in the state went on a wild cat strike demanding 'total safety' following attacks on their colleagues at the government owned Nil Ratan Sarkar Medical College and Hospital by the relatives of a patient following his death at the age of 85.
Following their attacks on Junior doctors by a large number of relatives of the deceased patient, at least two Junior doctors were  injured and admitted to the same hospital.
Later one of them – Paribaha Mukherjee- who sustained multiple injuries on his head was shifted to the ICCU department as his condition deteriorated further and required immediate surgery.
As the news of attacks on junior doctors at NRS hospital spread, their colleagues in all other government hospitals in the city and in almost every district,stopped their work to express their solidarity with the injured and beaten doctors.
As a result except the emergency section,the treatment of patients in all other departments, particularly in outdoor sections, have come to a halt since this noon,bringing untold miseries and harassment to thousands of patients and their relatives across the state.
'We demand adequate and full protection from hooligans and the patients' relatives who frequent every hospital now and then, and in the name of inadequate treatment beat up doctors mercilessly, a spokesperson of the Junior Doctors Association told Hindusthan Samachar.
They also demanded immediate intervention of Chief minister Mamata Banerjee to look into the issue and take necessary steps to ensure total safety and security of doctors and the nursing staff in every hospital.
Though West Bengal minister of state for Health Chandrima Bhattacharya and the state Health Secretary Asish Dutta went to NRS and requested the junior doctors to withdraw their strike keeping in mind the sufferings of other patients and their relatives who have come from distant areas,the striking doctors refused to budge and demanded the personal intervention of only the Chief minister to end the impasse.
Though initially the Junior Doctors Association claimed that their strike would be temporary as it began to express their solidarity with the injured doctors and would be withdrawn within a few hours, but as the condition of one of the injured doctors deteriorated and he went into coma, they refused to return to their work till now and demanded stern action against the culprits behind the gruesome attack.
It may be recalled that  about 200 people,claimed to be relatives of a 85 year old patient  – Mohammad Sahid – who was admitted to NRS  hospital on Saturday, attacked the attending junior doctors with sticks and iron rods following the death of the terminally ill patient last night  injuring two of them seriously.