Yogi reviews preparations for Ram Temple Bhumi Pujan at Ayodhya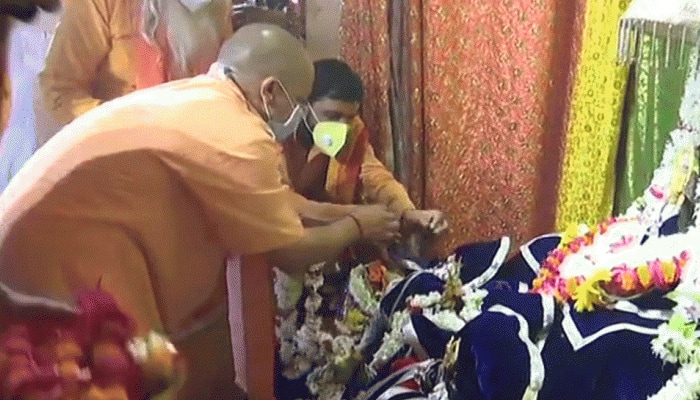 Lucknow, July 25 (HS) UP Chief Minister Yogi Adityanath on Saturday flew to Ayodhya to monitor the preparations for the upcoming grand Ram Temple foundation laying ceremony and Bhumi Pujan on August 5.
Prime Minister Narendra Modi is scheduled to visit Ayodhya on August 5 at 11 am to participate in the Puja (worship) before the ceremony begins.
The CM who landed at Ayodhya's Karsevakpuram to discuss about the preparations with the seers present there, also visited Hanumangarhi to offer prayers. He then went to the existing Ram Temple in Ayodhya in connection with the ongoing preparations.
The CM held a meeting with senior officials to discuss the exact status of the preparations and progress made so far at the Karsevakpuram.
Official sources told Hindustan Samachar that since CM Yogi will be hosting PM Narendra Modi and other dignitaries' trip to Ayodhya on August 5, he wanted to have the exact picture of preparations and extent to which all related works had been completed.
"As PM Modi is scheduled to take part in Ram Temple's Bhumi Pujan followed by Shilanyas (foundation laying ceremony), CM Yogi had detailed discussion with officials, members of Ram Temple Trust and seers on it", said a top official present there.
He also interacted closely with leading seers present there including Trust's general secretary Champat Rai.
The Idols of Laxman ji, Bharat ji and Shatrughan ji were placed on the upcoming Temple's new Holy Seats.  Yogi Aditynath also performed Puja after placing these Idols in their new seats.
Describing August 5 as a long-awaited occasion for the devotees across the world, the CM said  India will witness this long-aspired day after about 500 years.
He, however, declined to reveal the names of dignitaries who are expected to fly down to Ayodhya besides PM Modi.
All meetings addressed by the CM, strictly adhered to Covid-19 guidelines like wearing facemasks and maintaining social distancing.
Yogi clarified that although devotees of Lord Rama from across the globe may be waiting for August 5, one should not forget that we have to also ensure strict enforcement of Coronavirus related guidelines to defeat its spread.
CM Yogi also appealed to seers at Ayodhya to make arrangements in ashrams at Ayodhya, to watch live telecast of Bhumi Pujan and the foundation laying ceremony on August 5 in a bid to avoid crowds at the temple site on that monumental Day.
"It is mandatory to avoid crowds at Ram Temple site to prevent infection of Covid-19 so it should be the duty of everyone to avoid gathering", said the Yogi Adityanath.