Yogi Govt withdraws case against Ex Dy SP who imposed 'POTA' on Mukhtar Ansari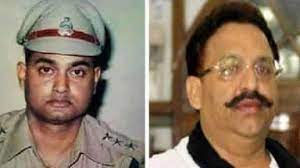 Lucknow,  31 March (HS) :       The Yogi Government in Uttar Pradesh has provided a major relief to the Former Deputy Superintendent of Police, Shailendra Singh who had imposed 'POTA' ( Prevention of Terrorism Act) on the gangster,  Mukhtar Ansari by withdrawing the case filed against him.
A case of vandalism and assault was filed in the year 2004 against the former Circle Officer, Shailendra Singh which has been taken back by the Yogi-led BJP government.
Singh, who was later made to resign under political pressure during the tenure of the SP Government, has expressed immense gratitude to CM Yogi Adityanath for restoring the courage and faith of the police force and for simultaneously giving a strong warning to the gangster elements of the society.
Singh further praised the policy of 'zero tolerance' against criminals adopted by the Yogi Government which has proved effective in curbing crimes.
"My family and I shall forever remain indebted to CM Yogi Adityanath for his kindness. My heartfelt gratitude to all the well-wishers who have supported me during the struggle", the former CO wrote on social media.
During the regime of the SP government, a case was filed against the former Dy SP Shailendra Singh posted in STF in 2004 for imposing 'POTA' on Ansari and for recovering LMGs (Light Machine Guns) from him. After this, Singh was made to resign under political pressure.
A decision by the UP government was taken on December 20, 2017 to withdraw such lawsuits inspired by politics. In this sequence, the CJM court withdrew the case against former CO Shailendra Singh. Following the order, Singh received a copy of the same on Tuesday.
Singh was forced to resign under political pressure
In 2004, when Singh had charged Ansari under the Anti-Terrorism Act for keeping LMGs, the Mulayam ruled SP government had pressurised him to end the case in order to shield Mukhtar. As a result of which, Shailendra Singh had to resign from the post of the Deputy SP.  Consequently, a few months later, at the behest of the then government, a criminal case was filed in Varanasi and he was put behind bars.