Will Amit Shah prove another Patel?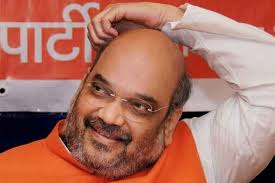 he allocation of Home portfolio to Amit Shah,which is not unexpected,has been largely hailed by people here.
Offering  Jal Shakti ministry created for water conservation and supply  to Gajendra Singh Shekhawat  has been been also lauded.
It is a fulfillment of  promise made by Prime Minister Narendra Modi during his election campaigns in the drought-prone Bundelkhand region of the state.
In several rallies in the area and some other parts he had recalled the statement of noted socialist leader Ram Manohar Lohia and said women in this country face mainly two problems–shortage of
toilets and shortage of drinking water.
And at the end, he would say,steps have been taken to ease the first problem and,therefore, he would concentrate  on the second if he is elected to power again."It will be my next mission and I will solve this problem in next five years".
To some others,Amit Shah is a right
choice because of his image as an "iron man"."A man like  him was needed to meet the challenges posed by stone-pelters in Kashmir and governments in West Bengal and Kerala",one of them said.
"It is too much of Mamata Banerjee(West Bengal chief minister) to ask police to arrest people  shouting Jai Sriram slogans",volunteered another,sitting beside him.
Kerala is no better.That state,too, is witnessing a lot of violence.The left parties "decimation" may create a different environment but it will take time before the situation normalises. A strong home minister will at least see that there is no spurt in violence there.
May be it is because of this kind of sentiment that a message on the social media that Shah will prove to be another Patel (Sardar Patel who persuaded Nizam of Hyderabad and some other princely states to merge into India) is trolling.
As regards,non-inclusion of two women who were elected from Uttar Pradesh,Maneka Gandhi and Anupriya Patel, which had caused resentment in some quarters,sources in the BJP said," don't worry something will be done for them,too".
Most of others who were provided berths in NDA one have been re-inducted,giving no reason for worry.
HS/RN Submitted By: R Narayan Edited By: R Narayan Published By: R Narayan at May 31 2019 5:32PM