Wildlife Sanctuary of Bundelkhand region will be established in Sagar district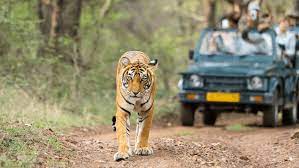 Bhopal, 4 September (H.S): A new wildlife sanctuary will be set up in Sagar district of Madhya Pradesh. This will be a unique gift for nature and wildlife lovers of Bundelkhand region. In the meeting of the State Wildlife Board held recently under the chairmanship of Chief Minister Shivraj Singh Chouhan, in-principle approval has been given to the proposal.
It is noteworthy that the Forest Department has taken this important initiative in compliance with the instructions given by Forest Minister Dr. Kunwar Vijay Shah to create 10 new sanctuaries in the reserved forest areas of the state while expanding the efforts of wildlife conservation. An area of 25 Thousand 864 Hectares of North Sagar Forest Division has been selected by the department for the sanctuary. Its headquarters will be Sagar and it is named as "Dr. Bhimrao Ambedkar" Sanctuary North Sagar.
There are 88 villages within a radius of 5 KM of the proposed sanctuary, whose nistar system is dependent on forests. In the sanctuary area 98.202 cubic meters of timber and 236 cubic meters of firewood having estimated amount of Rs 42 lakh and 4.96 lakh respectively will be affected annually. 42 officers-employees will be deployed for the sanctuary. Among them 41 posts of Forest Officers, Forest Rangers and Forest Guards have been proposed in addition to one Deputy Forest Divisional Officer. The annual estimated expenditure on the staff will be Rs. one crore 48 lakh.