Violence erupts again at Bhatpara, today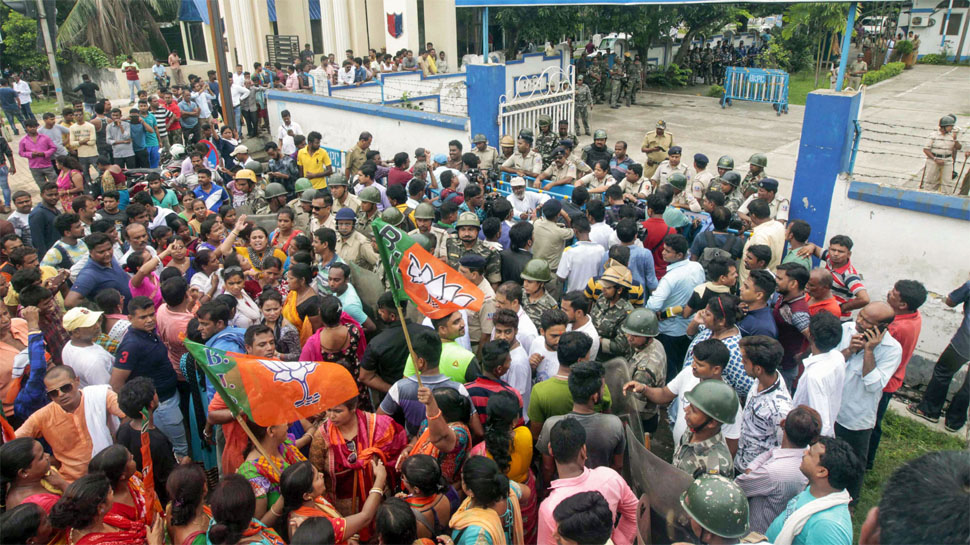 Bhatpara, North 24 Parganas)/ Kolkata, Jun.22 (HS): After an uneasy calm for two days, violence erupted once again in this industrial town of North 24 Parganas district where a number of powerful bombs were lobbed to scare the people soon after the visit of a Parliamentary delegation of BJP  this afternoon.
According to preliminary reports, as soon as the three member delegation of BJP MPs left Bhatpara after visiting the strife torn area and meeting the family members of both the victims who were killed allegedly in police firing during large scale violence on 20 June, a number of powerful bombs were lobbed in the city to scare the innocent people who ran helter skelter looking for a safe hiding place.
All shops and business establishments which were opened in the morning in presence of a large contingent of armed police, also downed their shutters for fear of further violence after the bombs were lobbed.
Though there was no report of any injury from  any of these bomb blasts,soon the entire area turned deserted as the people on the roads fled and ran for cover. All vehicles including auto rickshaws and  pedal rickshaws also stopped plying because of the tense situation,the reports said.
Soon a strong contingent of police,led by the newly appointed Barrackpore Police Commissiomner Manoj Verma rushed to the spot and started a house to house search to nab the culprits,but none could be rounded up so far.
It may be recalled that a three member high power BJP Parliamentary delegation led by  party MP Surinder Singh Ahluwalia and comprising former Commissioner of Police, Muimbai, Satyapal Singh and former Director General of Police, Jharkghand Vishnu Dayal Ram,  came from new Delhi  this afternoon and visited the strife torn areas of Bhatpara as directed by Union Home minister Amit Shah to review the last Thursday's violence and meet the family members of both the deceased and see the injured in hospitals. On their return they would submit a detailed report to Shah for further action by the Centre.
Meanwhile,though no step was announced by the state government to help the deceased families, local BJP MP Arjun Singh has promised to pay Rs ten lakhs each to the families of both Rambabu and Dharambir Shaw from his own sources of income.At least two people were shot dead and five others injured in large scale violence at Bhatpara by criminal gangs on 20 June rocking the entire state and the nation as well.