US Defense Minister nominate praised Pak for taking 'action' againt anti-India organizations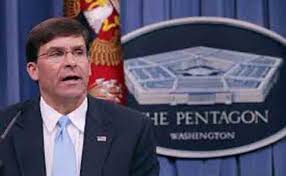 Washington, July 17 (HS): America's defense secretary nominee Mark Esper praised Pak, saying that he has started taking action against anti-India groups. He also said that he would do all those efforts, which can bring strategic changes in the area.
Esper said that the strategy of President Trump's South Asia recognizes Pakistan as an important partner in advancing American interests in the region, including developing a political settlement in Afghanistan, defeating Al-Qaeda and ISIS.
Esper said, we had seen that Pakistan has taken some constructive steps on Afghan reconciliation. Apart from this, he has taken initial and promising steps against anti-Indian groups like Lashkar-e-Taiba and Jaish-e-Mohammed that are at risk of regional stability.