US: 10-week-old baby having 96 fractures dies, parents arrested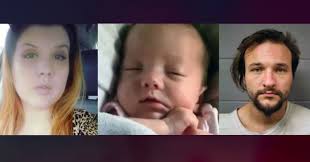 Washington, July 26 (HS): Parents have been arrested for the murder of his own child in America . 96 fracture was reported in a 10-week-old baby's body during  post-mortem. The child died after 12 days of discharge from the hospital.
The baby girl was named as Jazmin. Jason Robin father of the child  is charged with the murder of his daughter, Jazmine Robin, while the girl's mother, Katharine White, is charged with injury to a child. They had three children.
Jazmine, the middle child, was born premature at just 29 weeks in May 2018. The baby spent several weeks in the hospital before she was released to her parents in July as a healthy infant.
The detective said, this was a case of murder. According to the police, when the body of the child was brought to the Houston Hospital, the doctors were suspicious about death. From the postmortem report it was found that the child had been killed.
In the postmortem report , it was revealed that the child was killed by attacking her head and whole body. Later, in front of the investigating agency, the father said that he had read many books to control his anger. Despite this, mistake was committed.