UP's ODOPs make global splash, international expos held in 19 countries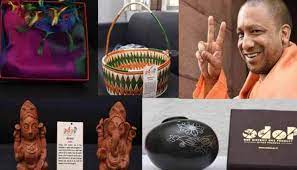 Lucknow,  16 April  (HS) :      The One District One Product (ODOP) scheme of Uttar Pradesh, the dream project of Chief Minister Yogi Adityanath, has become a big hit globally after having made a splash inside the country.
The terracotta of Gorakhpur, chikankari of Lucknow and black salt (kala namak) rice of  Siddharthnagar are in great demand today not only within India, but also in Britain, Germany and the US.
According to a spokesperson of the state government the ODOP items from UP were a major attraction at  the Handloom Fair in Hong Kong and the Textile Expo in Istanbul, Turkey. Earlier, ODOP products made their mark at the Cairo Fashion Week held in the Egyptian capital in September last year. International level exhibitions were organised in around 19 countries including the US, the UK, Hong Kong, Turkey, Egypt and Germany among others.
According to the ODOP website, 23 national level exhibitions were organised from March 2020 to 2021. Many international companies also participated in the exhibitions. Besides, state-level fairs also played big role in popularising the products.
The demand for ODOPs has increased rapidly following the ODOP Department taking exclusive products from all the 75 districts of UP to the global stage. So far, the ODOP Department has organised more than 24 exhibitions abroad, including in the US, to showcase the unique products.
The spokesperson said that the Yogi Adityanath Government's novel ODOP initiative has not only created a global market for the 75 special products of UP, but has also contributed immensely towards supporting artisans involved in the production of these items and creating employment opportunities for the craftsmen and the youth of those districts. The online shopping website Amazon, Filmkart and other companies are also popularising ODOPs.
Enhance income, generate employment
He said that ODOP's success can be gauged from the fact that 20 tonnes of 'Buddha's Mahaprasad' (black salt rice) was exported from Siddharthanagar to Singapore recently. Besides, more than 50,000 products worth more than Rs 24 crore rupees have been sold through Amazon alone till December 2020. The 'Hunar Haat', held in Lucknow under the theme of 'Vocal for Local', brought under one roof a rare pool of talented craftspersons and their works from all the 75 districts of UP. The artisans won the hearts of people with their skills while their displays sold like hot cakes. Sales worth over Rs 3.5 crore was recorded at the ODOP stalls at the haat in just 14 days. Similarly, sales of Rs 25 lakh was recorded at the KGI Products Expo 2021 held at Pandit Deendayal Upadhyay Handicrafts Complex in Varanasi's Baralalpur.
The successful market of ODOPs has not only boosted the state's economy, but also enhanced the income of the workers and artisans involved in its production while creating employment opportunities for the youth locally, the spokesperson added.