UP businessman's grandson rescued after kidnapping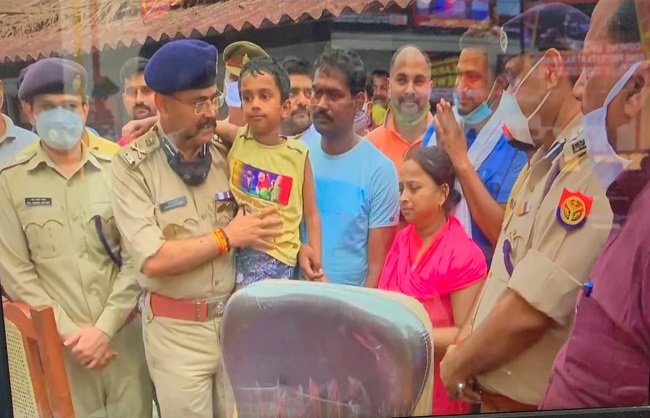 Lucknow, July 25 (HS) In a major breakthrough, a 10- member joint team of STF and Police has rescued the six-year-old grandson of UP gutkha trader Rajesh Kumar Gupta. The child Namo Gupta had been kidnapped from Karnelganj area of Uttar Pradesh's Gonda district, on Friday afternoon. Four people who allegedly abducted him are arrested after a fierce encounter in the wee hours of Saturday.
According to Additional DGP (L&O) Prashant Kumar, "The kidnappers, allegedly carrying identity cards of the health department, came to Karnalganj on the pretext of distributing masks and sanitisers."
According to police, the boy was standing at a distance when the kidnappers in a car approached him to give hand sanitiser and pulled him inside the vehicle. After some time, a woman, identified as Chhavi Pandey called boy's father Hari Gupta and demanded a ransom of Rs 4 crore. However, as per eyewitnesses, the team which had come to the locality did not have any woman. After the boy's father lodged a complaint, a case was registered, and police teams launched a search operation to trace the child. CCTV footage of the area was examined.
Addressing a joint press conference on Saturday, Additional DG Prashant Kumar and IG (STF) said, "Acting on a tip off, STF and Police jointly conducted raid in the rural areas of Gonda and managed to rescue the boy after an encounter."
A reward of Rs 2 lakh has been declared for the joint team of the STF and police, which successfully carried out the operation, rescued the child, and arrested the kidnappers. During the investigation, the police also recovered an audio clip in which one of the kidnappers was heard demanding a ransom of Rs 4 crore, while citing the Vikas Dubey case.
The accused are identified as Suraj Pandey of Shapur, Chavi Pandey, w/o Suraj Pandey, Raj Pandey, Umesh Yadav and Deepu Kashyap. Two abductors, Deepu and Umesh, sustained injuries in the encounter.
ADG Prashant Kumar told Hindustan Samachar that police have also seized one pistol of 32 bore, two country made pistols of 315 bore and an Alto car used for kidnapping.