UP 2022 polls assembly polls: BJP commences mapping of UP natives in M'rashtra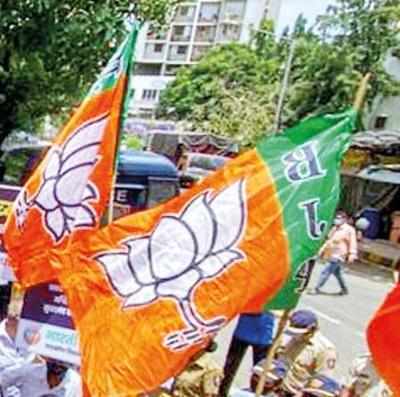 PRAYAGRAJ, September 3 (HS): Taking a cue from the 2014 Lok Sabha election, when Gujaratis from all over the world flocked to Varanasi to successfully campaign for the then-Prime Ministerial candidate Narendra Modi, the Bharatiya Janata Party is planning to enlist Maharashtra residents to help it win the UP assembly elections in 2022. According to statistics, about 10% (1.45 crore) of Maharashtra's population is from North India. They come from either Bihar or Uttar Pradesh. Uttar Bharatiya Morcha, a Maharashtra BJP wing, has already begun mapping these UPites in Maharashtra.
The Morcha has determined to map these UPites in Maharashtra and bring those ready to migrate to UP for the assembly elections in 2022. Because these UPites in Maharashtra have roots in Uttar Pradesh's native districts, they can be of great assistance to the BJP in UP during assembly elections, according to Shweta Shalini, who is incharge of the morcha and the Maharashtra BJP's spokesperson. Shweta, a Bihar native, now claims to be Ayodhya's daughter-in-law after marrying Ankush, an Ayodhya-based IT entrepreneur.
The process has already begun, according to Morcha president Sanjay Pandey, who also stated that the morcha has been tasked with creating a database of north Indians living in Maharashtra. Google forms are being used to prepare the database. North Indians living in Maharashtra are being asked to fill out their personal information, including their native district and phone numbers, according to Pandey, a Pratapgarh resident. Shweta explained that once this process is completed, the morcha will create a database. ?Another set of data will be prepared from the database of people willing to actively engage in the UP assembly elections,? she added.
Those who are interested would be sent to their home districts during the polls, according to Pandey. The larger objective, he said, is to develop a connection between party workers, Maharashtra's North Indians, and the UP government. ?For this, we met with Swatantra Dev Singh, the UP BJP chief. He has promised to assign a prominent party figure to look into the challenges the UPites in Maharashtra are facing in their native places,? Pandey said. Another member of the team stated that this would not only benefit the party in UP during elections, but it would also urge UPites living in Maharashtra to support the BJP in any way possible during the UP assembly elections.
According to Pandey, the initial reaction indicates that Maharashtra UPites are willing to lend their full support to the BJP in the next UP assembly elections. Earlier in the day, the team met with Chief Minister Yogi Adityanath and asked him to have an additional 25 rooms built at UP Bhawan in Mumbai for the convenience of visitors to Tata Memorial Cancer Hospital. According to Pandey, the UP CM offered to build a lodge for attendants from UP, provided the state government could get a piece of land.