U.P. Police arrests Vikas Dubey's close aide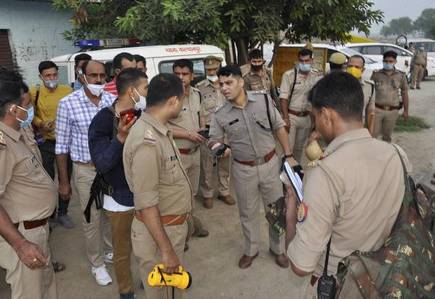 Kanpur, July 05(HS): A joint team of UPSTF and UPSOG arrested Daya Shankar Agnihotri, a gang member of Vikas Dubey, who says he was informed about the raid by someone from the police station. He was arrested after a half -an- hour long fierce encounter near Kanpur's Kalyanpur locality. The UP police are investigating their local officers, after eight policemen were gunned down in Kanpur by Vikas Dubey and his gang on Friday.
According to the DGP H.C Awasthi, "Dayashankar, a close aide of Vikas Dubey, was shot in the leg during the encounter on Saturday and has been admitted at district hospital for treatment. He is one of the 18 aides of Dubey on whom the police had declared a reward of 25,000 rupees each."
In a major revelation, Dayashankar confirmed that Dubey had received a call from police before the raid after which he alerted his gang members and got time to prepare an ambush for the police party which was coming to arrest him. Dayashankar said he was locked up inside a room during the shootout and did not fire. He added that was not sure about the exact number of people who were involved in firing at the police party.
During the police raid, electricity supply of Bikru village was snapped in order to help Dubey and aides flee in the dark. It has also been learnt that a phone call allegedly from the Chaubeypur police station was made to the electricity department to stop the electricity supply of Bikru village during the raid.
The station-in-charge of Chaubeypur, Vinay Tiwari, has been suspended and police are questioning him. The entire staff of the Chaubepur police station is under scanner.
Additional Director-General of Police (Kanpur Zone) Jai Narain Singh told, Hindusthan Samachar that the reward declared by the police department on Dubey has now been increased from Rs 50,000 to Rs 1 lakh.
Others mentioned in the FIR are- Shyamu Bajpai, Chotu Shukla, Monu, Jahan Yadav, Shashi Kant Pandit, Shiv Tewari, Vishnu Pal Yadav, Ram Singh, Ramu Bajpai, Amar Dubey, Prabhat Mishra, Gopal Saini, Viru Dubey, Bauan Shukla, Shivam Dubey, Bal Govind and Baua Dubey.
More than 60 teams of UP Police along with UPSTF involving more than 1,500 police inspectors are on the lookout for Dubey. The district administration also demolished Dubey's hideout, in Bikru village.