Train services disrupted on Sealdah- Naihati section following violence at Bhatpara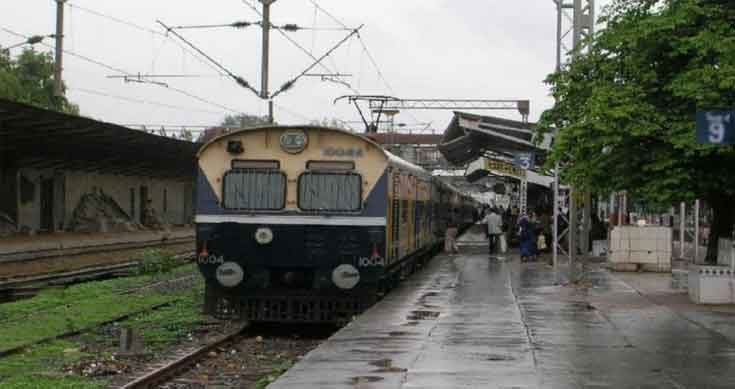 Kolkata, 15 July (HS); Normal train services in the Sealdah main line on Sealdah-Naihati Division were disrupted for several hours today after a section of daily passengers sat on dharna on railway tracts and blocked the movement of trains at Kankinara station in protest against large scale violence in the area since early morning.
Informing this Chief Public relations Manager Eastern Railway told Hindusthan Samachar here this afternoon that  however, the blockade was lifted  at around 3 p.m. following the intervention of senior Police and Railway officials and the normal services resumed on both up and down lines.But as a result of the blockade a number of trains were cancelled on the Sealdah- Bandel section, the sources said
They said a large number of daily commuters and office goers sat on railway tracks near Kankinara station during rush office hours today preventing running of EMU and other train services on the Sealdah- Naihati broadgauge section in protest against almost daily occurrence of violence near the station and other areas of the adjacent Bhatpata- Kankinara towns.
They were also demanding the deployment of Para Military forces in the dual industrial townships in North 24 Parganas district and more intense patrolling and action of the police to recover huge cache of illegal arms and ammunition from both the areas and arrest of several gangs of criminals to restore peace in the localities.
It may be recalled that large scale violence broke out in several areas of Bhatpra and Kankinara this morning in which bombs and other missiles were used freely for several hours by rival gangs of miscreants to settle their disputes and scare local residents.
Though none was injured in those bomb attacks,police had to resort to lathi charge, bursting of tear gas shells and finally opened five rounds of fire in the air to ward off these rival gangs.
But as a result of their infighting all shops,business establishments,schools and colleges in the areas remained closed and vehicles including rickshaws and auto rickshaws went off the roads causing severe inconveniences to the general public.
Though several police camps have since been posted in different localities to prevent recurrence of violence, an uneasy calm continued to prevail in both the industrial towns, situated about 40 km from Kolkata.