The "arribada": A journey into the fascinating world of sea turtles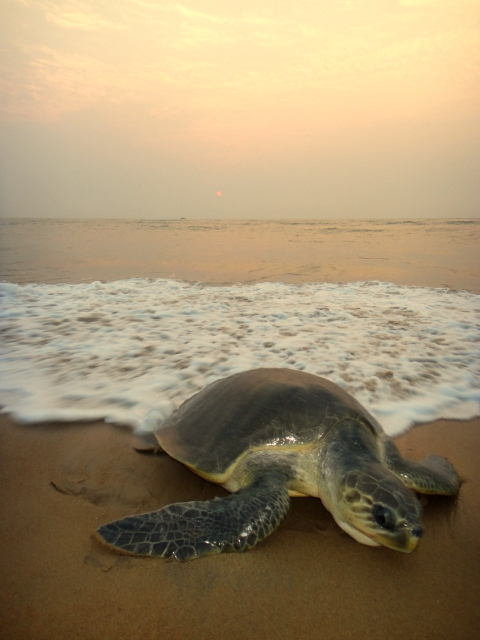 The "arribada": A journey into the fascinating world of sea turtles
By Shri Ram Shaw
New Delhi, July 02 (HS): At a time when environmental awareness is the need of the hour, the "arribada", an unique travelling exhibition, tells you the story of sea turtles through turtle-inspired artefact collections of three avid conservationists and collectors. The exhibition aims to transport us into the mysterious world of sea turtles and help raise awareness about the need for their protection and conservation.
Human beings have been fascinated by sea turtles for millennia and turtles play key roles in mythology and culture across the world. Having evolved around 110 million years ago and remaining mostly unchanged, they bring valuable insight to the Earth's past. As a charismatic species, they are ambassadors for their ecosystems, bringing attention to the need for conservation e­fforts for seascapes across the country and the world.
India's coastal waters contain 4 species of sea turtles, all listed as endangered under the Indian Wildlife (Protection) Act, 1972 and CITES. These include the green, hawksbill, leatherback and olive ridley, with the ridleys being the smallest in size. The olive ridleys are also the only species exhibiting the phenomena of mass nesting in India and the Indian mass nesting population of olive ridleys is globally the largest rookery.
In a nocturnal spectacle spanning a few nights, tens of thousands of olive ridley turtles lay over a million eggs ashore in the event known as the arribada. These turtles undertake a long distance migration from the offshore waters of Sri Lanka via Tamil Nadu and Andhra Pradesh to nest in large numbers along the beaches of Odisha.
However, while direct threats like poaching for trade or consumption have largely been eliminated for the species in India, they continue to face indirect threats from fisheries (bycatch mortality), coastal development (loss of nesting beaches), climate change (altered physiology and habitat) and marine debris (entrapment, ingestions, infiltration in food chain).
WWF-India launched its third exhibition – "arribada: A gathering of stories, cultures and interactions with sea turtles" in collaboration with Dakshin Foundation and Aradhana Seth.
Speaking about the exhibition, Ravi Singh, Secretary General and CEO, WWF-India, "WWF-India has been engaging with school children for over four decades to build young leaders of conservation through programs and initiatives that are both educational and are also engaging and interactive. The "arribada" is an attempt to take children and others into the world of turtles and marine biodiversity and highlight the need for its conservation."
Dr. Kartik Shanker, ecologist and Founder trustee, Dakshin Foundation, said, "This exhibition brings together a set of cultural artefacts that symbolise our long relationship with turtles. Through this we hope to bring out stories of both hindering and reverence, of ecology and conservation and of some of our own turtle heroes.
However, the exhibition was launched at the WWF-India office in New Delhi by Dr. Sejal Worah, Program Director, WWF-India, Dr. Kartik Shanker, ecologist and Founder trustee, Dakshin Foundation, Ms. Aradhana Seth, Director, Producer, Art Director and Ravi Singh, Secretary General and CEO, WWF-India.
The three eclectic collectors of turtle artefacts have come together to bring to the forefront the story of sea turtles and the need to protect this beautiful species. The exhibition brings to life stories from history, biology, culture, conservation and people associated with sea turtle research in India. The exhibition also uses recyclable material and discarded single-use plastic in its construction and will be displayed in New Delhi from July to September and will later move to Bengaluru and Goa.