Sonowal requests Union Minister for setting up of a Steel plant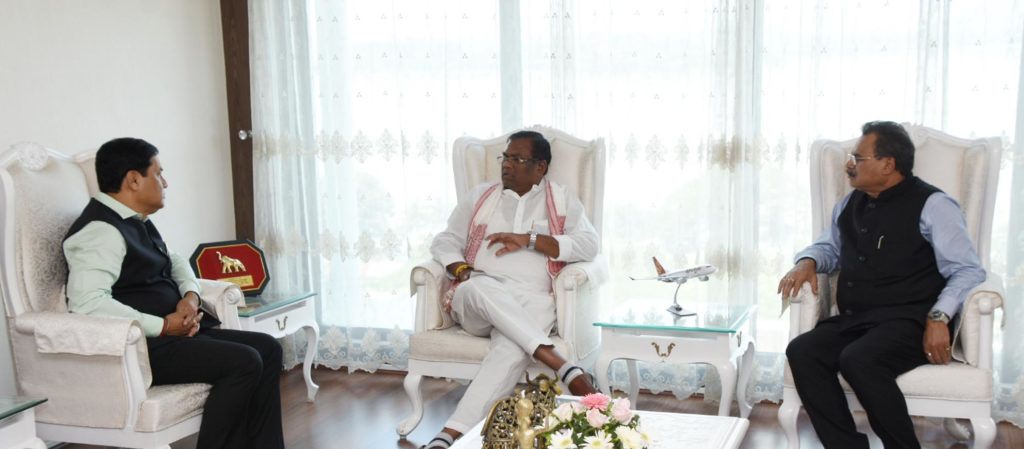 Guwahati, June 23: Union Minister of State for Steel Faggan Singh Kulaste Saturday called on Chief Minister Sarbananda Sonowal at Brahmaputra State Guest House here today as the duo talked at length on the possibilities of steel industry in Assam.
Faggan Singh Kulaste while paying his first visit to the state after taking over the reign of office discussed, with the Chief Minister and took stock of the demand of steel in the state. Sonowal said that considering the ever-increasing requirement of steel in North East, a steel plant should be set up in Assam with Central government support. Sonowal stated that the entire North Eastern region uses more than six lakh metric ton of steel from Steel Authority of India ever year and considering the huge demand of steel, a steel plant should be set up in the state. He also said that the now defunct steel plant at a sprawling 100 acre land at Dogaon near Baihata Chariali in Kamrup District should be revived to feed the demand of the state.
Referring to the Advantage Assam: Global Investors' Summit held last year in Guwahati, Sonowal said that the summit witnessed inking of 240 MoUs involving an amount of Rs. 79 thousand crore. Out of which an investment of Rs. 52 thousand crore has already been made in different sectors. The Chief Minister also said that the considering the huge potential of trade and commerce, the territory of Capital city has been expanded with notifying State Capital Region encompassing the adjoining areas of the city. He also said because of never before importance put by Prime Minister Narendra Modi massive developments have been initiated on the infrastructural front in Assam and other North Eastern states. Sonowal also requested the Union Minister to incorporate the agenda of a steel plant in Assam in the ministry's 100 days agenda of work.
The Union Minister also assured that he would very positively look into setting up of a Steel Plant in Assam along with reviving the existing one. Minister for Industries and Commerce Chandra Mohan Patowary was also present in the meeting.