Smriti Irani and Harsimrat Kaur inaugurate the three-day National Organic Food Festival .,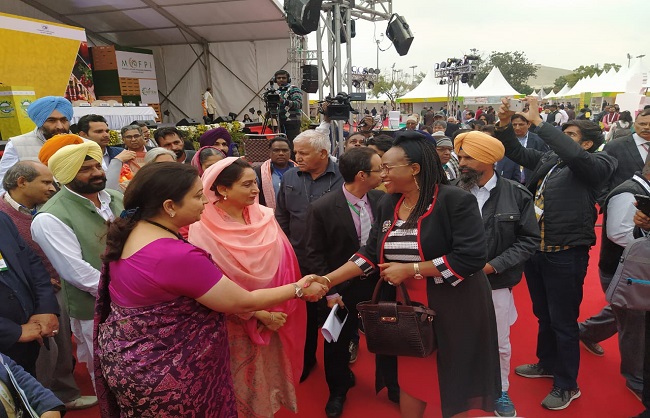 New Delhi, Feb 21(HS): Union Cabinet Minister of Food Processing Harsimrat Kaur Badal and Human Resource Development and Union Minister of Textiles Smriti Irani jointly inaugurated the three-day National Organic Food Festival by lighting a lamp at Jawaharlal Nehru Stadium in New Delhi.  Debasree Chaudhary, Minister of State for Women and Child Development, Union Minister of State for Food Processing Industries Rameshwar Teli and other officials were present.
A three-day Organic Food Festival -2020 was organized on Friday (21 February) to promote women entrepreneurship in the production and processing of organic products, in collaboration with the Ministry of Women and Child Development, Ministry of Food Processing Industries. The festival aims to strengthen the organic market and encourage women entrepreneurs engaged in the preparation of organic products. Around 180 women entrepreneurs and various self-help groups from across the country are showcasing a variety of addictions made from organic products. The theme of this festival is to showcase the potential of India's organic market.
Speaking on the occasion, Union Minister Smriti Irani has said that the government is ensuring to provide a sustainable and appropriate environment to farmers and women entrepreneurs and to get involved with the latest technology in the field of food processing.
Harsimrat Kaur Badal said that with the increasing awareness about health and well-being, the demand for Indian organic products is increasing worldwide. We believe that the Organic Food Festival will serve as a platform for women entrepreneurs to showcase their products and increase direct engagement with buyers. It will also be a platform for them to learn skills to enhance their initiative and to get training to increase their capacity for processing organic products. The organic sector in India is growing at a rate of 17 percent per year.
He said that India has the largest number of organic food producers and is the ninth-largest in terms of land devoted to organic agriculture. The country produced around 1.70 million tonnes of certified organic food in 2017-18, including oilseeds, cereals and millet, cotton, pulses, medicinal plants, tea, and fruits. India exported 515 million dollar worth of organic products to countries such as the US, European Union, Canada, Switzerland, Israel, and South Korea in 2017-18.
He informed that about 150 women entrepreneurs from different states are participating in the three-day festival. "There are already several government schemes which focus on promoting organic farming and we feel that this program will raise awareness about organic food products among consumers.
It is noteworthy that the two ministries have signed an MoU to help connect women entrepreneurs in the organic food sector with government schemes and are focusing on this initiative to become competitive in the global market.