Sindhu dedicates her Bronze medal to services of Hyderabad Police during Pandemic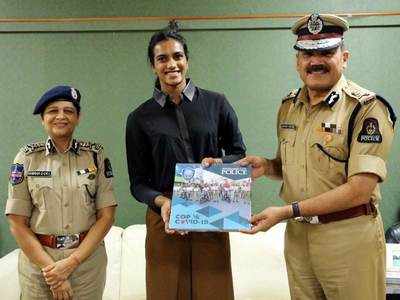 Hyderabad 11 August (H.S)Hyderabad city Police felicitated Ms. P.V. Sindhu on the eve of winning Bronze Medal in the recently held Tokyo Oympics,2020.
The Commissioner of Police, Sri Anjani Kumar IPS showered praises on the achievement of Ms. P.V. Sindhu and remembered the contributions of her in the international badminton Circuit in the last five years and the character displayed in maintaining fitness and other aspects despite testing conditions. Several quotes of P.V.Sindhu have been reiterated in this regard.
Also, that, a book named ?The Second Wave?, a compilation of efforts made by Hyderabad City Police in battling the Covid second wave, has been released by Ms. P.V. Sindhu on this occasion.
Addressing to the audience of Senior Police Officers, Mr. P.V. Ramana (also a Arjuna awardee) F/o Ms. P.V. Sindhu thanked each and every Police Officer and considered to be a moment of Pride and honour to be invited and felicitated by the Top brass of Hyderabad city Police,
While Ms P.V. Sindhu expressed her joy for the felicitation and thanked the Commissioners of Police of Hyderabad and Cyberabad for supporting her during the lock down by providing Pass, which ensured her training commenced without any hinderance during the Olympic preparations. As a token of respect and gratitude, she stated that she dedicates her Olympic bronze medal to the services of Police department.
Smt. Shikha Goel IPS, Addl CP, Crimes & SIT expressed her vote of thanks during which she remarked that the Olympic winner epitomised the spirit of every Indian Women in showcasing the true character of ?Never say No? in any situation, which earned Ms. P.V. Sindhu great laurels, also praised her Parents? decision in choosing a tough decision and working towards realizing their child?s dream of becoming the top badminton player.
Also present in the event, Sri Anil Kumar IPS, Traffic, Zonal Jt. CsP and DCP, DCP Admin & Addl DCP She teams and also all Officers above the rank of ACsP of Hyderabad city police.