SHOCKER: Man allegedly killed by sons on Father's Day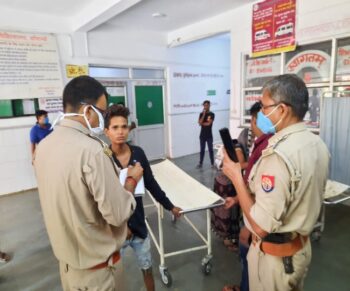 PRAYAGRAJ, JUNE 20 (HS): On Father's Day, sons and their spouses allegedly murdered their father in Kaushambi over a property dispute. On Father's Day, June 20th, people all across the world express admiration for their fathers by honouring their contributions to their advancement, accepting their father's blessings, and offering him gifts. But on the contrary, in Gandhinagar locality of Manjhanpur in Kaushambi, sons and their wives beat up their father with a rod over the allocation of property and money. Following that, the daughter-in-law and son arrived at the Kotwali. The police have brought all of the accused into custody, in addition to recovering the rod used in the murder.
Baijnath (61), a Kaushambi native from Gandhinagar, retired from the railways in March. Surendra, Virendra, and their spouses, according to his wife Pati Devi, used to fight about property allocation and the amount earned after retirement. As a result, Baijnath and his youngest son Narendra, as well as his daughter Pooja, lived in a separate residence.
Kaushambi police, however, said that police have been interrogating the family members after the youngest son had accused two of his elder brothers for killing father. The body has been sent to post mortem to ascertain the cause of death. Inspector (Manjhanpur) informed HS that cops have been quizzing the family members after the youngest son of slain old man, Narendra had accused his two elder brothers – Surendra and Virendra and their wives for killing his father Baijnath over property dispute.
Baijnath was returning home from the farm with livestock feed on Sunday morning. His sons Virendra and Surendra along with their wives stopped him on the way. Thereafter, they brought Baijnath to his residence, shut the door, and brutally beat him with rods and kick punches. Sachin, Surendra's son, was also a victim of the attack. When the youngest son Narendra learned about this, he went there with his mother and took Baijnath to the hospital. He was proclaimed dead on arrival by the doctors. The body has been sent for a post-mortem, according to Manjhanpur CO, KG Singh.
Narendra, the younger son, has stated in his complaint to police that his elder brothers, who stayed separately from parents, had on Sunday morning stopped the father when he was carrying fodder for cattle on the way back to house from the field. The duo sons had allegedly taken him to their house and thrashed severely. When Narendra and his mother Rita Devi came to know about the incident, they rushed to Surendra's house and rescued the father. The youngest son then brought his father to a nearby hospital where doctors pronounced him dead. "Following receipt of the post-mortem report, further action will be taken. Detailed investigations are underway," Manjhanpur CO, KG Singh told HS before signing off.