Saptakranti Express coming from Muzaffarpur to New Delhi cathches fire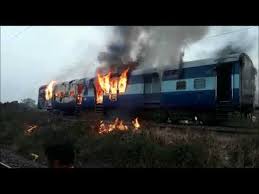 Delhi, June 24 (HS): A fire broke out in the engine of Saptakranti Express. Train was coming from Bihar's Muzaffarpur to Delhi. Engine got fire near the city of Brahmapura Gumti adjacent to the city. There is no information of any casualties so far.
The incident took place near Kanti station at Muzaffarpur-Narkatiaganj Route. It is being told that the driver and crew separated the train from the engine cautiously.