RU holds webinar on Mother Tongues of Jharkhand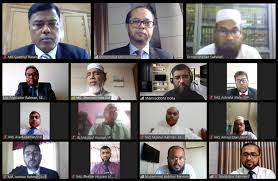 Ranchi, 21 February 2021 (HS)A day-long national webinar organized by the Tribal and Regional Language Department of Ranchi University (RU) on the theme of 'Mother tongues of Jharkhand: present and future prospects'. Professor Ramesh Kumar Pandey, Vice Chancellor of Ranchi University was the chief guest on this occasion. It was headed by Department Head Hari Oraon.
Oraon said that for the all-round development of the entire human community, the preservation and promotion of mother tongues is important. In the new education policy, initiatives have been taken to develop and preserve our mother tongues. This will give the mother tongues a powerful platform. On this day, we should take a pledge to preserve and promote our mother tongues.
Government Science College, Raipur, Chhattisgarh's former Department Head and Hindi Department and national president of Kurukh Literary Society of India New Delhi, Professor Usha Rani Minz said that mother language is the carrier of our culture. It has the amazing power to organize the whole community and country. She said that we talk about fundamental rights in the constitution but do not talk about fundamental duty. We will need to take initiative at the community level to protect and promote our mother tongue. At present languages ​​are preferred on the basis of ethnicity or community, but such things were not there in ancient times. For the entire village, the mother tongue of the entire country used to be the same.  If someone's language has to be killed, that person's tongue is cut off, he or she will not be able to speak even if they want. We need to spread and propagate our mother tongue in coming days. Y
Professor Narayan Sahu, former retired head of the Odia Department of Utkal University, Bhubaneswar, Odisha, underlined the important role of the linguistic revolution and martyr revolutionaries in the Bengali country and said that the relationship between mother tongue and man has been deep and primitive. Man does not exist without language. He told that the person has emotional connection with the mother tongue.
Professor Savita Pradhan of the Odia Department of Visva Bharati, Shanti Niketan, West Bengal, said that through mother tongue, a child first connects with his mother and then the whole nation. The webinar included language scholars, litterateurs from Karnataka, Rajasthan, Orissa, Chhattisgarh, Delhi, Maharashtra, West Bengal, researchers, students, professors, linguists and litterateurs from various universities of Jharkhand.