RSS chief Mohan Bhagwat reaches Dhandad today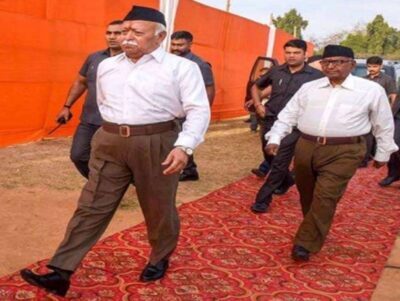 New Delhi, 10 September (H.S): Rashtriya Swayamsevak Sangh chief Mohan Bhagwat on his three days visit reached Dhanbad Friday morning. As Bhagwat reached Dhanbad from Patna by Ganga Damodar Express at around 5.45 pm, the volunteers gave him a warm welcome.
The Sangh chief left for Saraswati Vidya Mandir (Rajkamal) located in Ashok Nagar directly from Dhanbad station. It has been told that Mohan Bhagwat will stay in Rajkamal for the next three days. Here he will participate in the program of Sangh Jharkhand Province organized at Saraswati Vidya Mandir.
The Sangh chief will hold a meeting with the Jharkhand-Bihar officials of the Sangh from September 10 to 12. After this, on the second day, Bhagwat will hold a meeting with the metropolitan, city executive, branch chiefs and head teacher caretakers there.
Bhagwat is in the news for his statement that every Indian has the same DNA. During an event in Mumbai, he had said that the DNA of Hindus and Muslims is the same and every Indian citizen is a Hindu. He had said that Islam came to India with the invaders. No Muslim of India needs to be afraid in the country.