Rajbhar meets Bhim Army Chief to discuss future strategy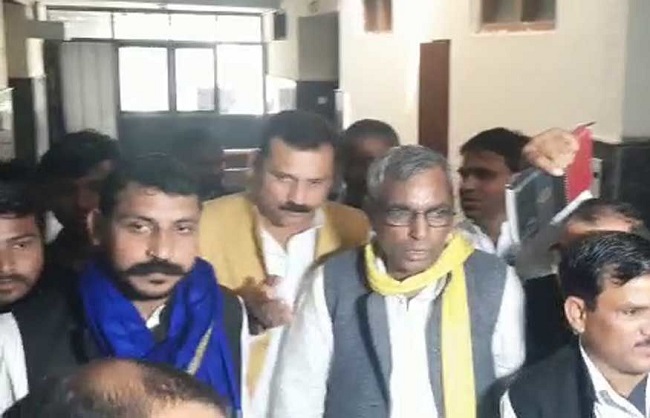 Lucknow, March 02 (HS) The Assembly elections in Uttar Pradesh are nearly two years away but some political parties and groups have already switched to election mode and started discussing strategies to win them.
Om Prakash Rajbhar President of Suheldev Bharatiya Samaj Party, a former BJP ally, on Monday met Bhim Army Chief Chandrashekhar Azad, an emerging Dalit leader in the state, in this connection.
The latter is likely to announce formation of a new political party next week and fight assembly elections in this state and some others. He wanted to join the on-going anti-CAA agitation here but was not allowed to do so by the police for security reasons.
He has already addressed the agitators in Delhi and some other parts of the country. He has been sent to jail and is out on bail at present.
Rajbhar was a minister in the Yogi government and was shown the door after crossing sword with the ruling party and contesting the Lok Sabha elections separately.He is nursing a grudge against it since then and can join hands with any one to cause damage to the BJP .
The Dalits have a large presence in several constituencies and play a major role in deciding the winners. Some leaders who have been expelled from the BSP for different reasons may join the new political outfit.
The BJP which could secure two-thirds majority in 2017 Assembly elections will organize workshops to decide its strategy.The first workshop will be held at Chandauli after the festival of color is over next week.
At the workshops to be attended by Chief Minister Yogi Adityanath, BJP state unit chief Swatantra Dev Singh and other senior leaders, party legislators are to be told about leaders like Deen Dayal Upadhyay and Shyama Prasad Mukherjee and their thinking.They will be also asked to fan out to their constituencies to propagate the developmental measures taken by the government in Delhi and Lucknow.
These workshops will be mainly beneficial to leaders who have left their parent organizations to join the BJP before the Lok Sabha elections last year.
The opposition is not united at the moment but may do so at the last moment to keep the BJP out. The party, therefore, does not want to leave anything to chance.