Rahul Gandhi does not speak with his own mind : CM Yogi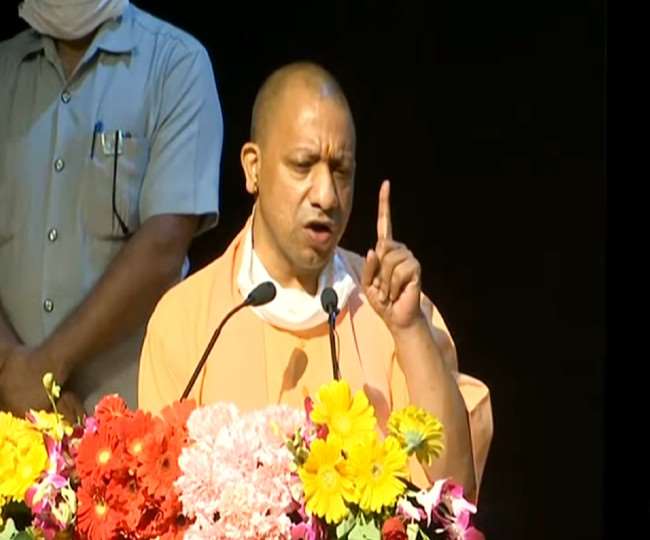 Lucknow,  26 March (HS) :    Whether it was reskilling returnee migrants, launching the One District One Product scheme, securing 2nd rank in EoDB rankings, or launching schemes for the welfare of the farmers, the UP government has been efficiently converting all the challenges into opportunities in Uttar Pradesh, said CM Yogi Adityanath here on Friday. He also attacked Congress leader Rahul Gandhi on the occasion.
"We have made continuous efforts since the time my government came into power to identify all those sectors which will help establish a new dimension in the state's economy. For this, we have also identified some sectors", said CM Yogi while attending a conclave organised by a private media house today.
Stating that Uttar Pradesh is known for its rich and fertile land in India and it also has a good system of water resources, CM Yogi said, "We have targeted some sectors keeping in mind the farmers which will help in double the income of farmers."
The CM claimed that there has not been even a single case of communal disharmony and riot in the last four years of the Bharatiya Janata Party government in Uttar Pradesh. Earlier, the state used to witness riots every week but now the law and order of UP have become a model for the country.
"We have been successful in changing that perception", he said adding "We have taken a quantum leap in the rise of the state MSME sector which also created employment opportunities on a large scale."
Uttar Pradesh is the only state to have doubled the Per Capita Income from Rs 47,000 to Rs 97,000 in just four years, he said.
Chief Minister said that UP is now on the path of releasing its much-cherished dream of attaining one trillion economy status in the country while contributing to the country's five trillion economy target set by Prime Minister Narendra Modi.
Taking a sharp dig at Congress leader Rahul Gandhi, UP CM Yogi said, he does not speak with his own mind. He stated that everyone has the right to contest election from the constituency of their liking. Rahul Gandhi was rejected by the people of Congress stronghold Amethi, as they no longer feel connected to the party leadership. When he addresses people in North India, he criticises South India, and when he is in South, he uses bad words about North. He is facing credibility crisis, and it is the prime reason behind the downfall of Congress party.
Launching an attack on Mamata Banerjee, CM Yogi said that no development has been seen in WB. "West Bengal election for us is an election to bring prosperity to farmers, women, and youth," said the chief minister adding that "It is a matter of days when the magnificent state will get rid of the hooliganism of Trinamool Congress, and BJP will re-establish the identity of Bengal and carry forward a new positive change."
Stating that BJP has never uttered a word against any religious celebration, Yogi questioned Mamata that why was Durga Puja and Saraswati Puja celebration stopped in the state. He also assured, "Once BJP is voted to power, no one will have courage to stop the people from performing Saraswati and Durga Puja."