Punjab confers proprietary rights under basera scheme at Sri Chamkaur Sahib on 269 beneficiary slum dwellers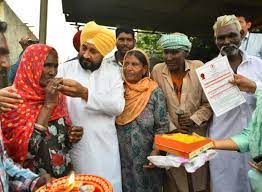 Sri Chamkaur Sahib ( Punjab) , November 5 ( H S ) :On the auspicious occasion of Diwali, the Punjab Chief Minister Charanjit Singh Channi on Thursday conferred propreitary rights under 'Basera' scheme on 269 slum dwellers of Indra Colony. The Chief Minister as a symbolic gesture went to the houses of some of the beneficiaries, lighted the lamps and handed over the 'Sanads' conferring propreitary rights. The rest of the beneficiaries were given the 'Sanads' in a function here at City Centre.
Addressing the gathering, the Chief Minister said that with the conferring of propreitary rights on the slum dwellers living on the State Government land in the urban areas, the dreams of the needy people to own a house has been fulfilled. "All the eligible beneficiaries under the BASERA scheme would be covered soon and instructions have been issued with regard to speed up the process", said Channi.
Divulging further, the Chief Minister said that the Corona pandemic has had an adverse economic impact on the middle class people and their woes have been further compounded by the union Government constantly increasing the prices of petrol and diesel thus causing the inflation to rise up to an all time high.
Meanwhile, the Chief Minister also said that the domestic power rates have been slashed by Rs. 3 per unit keeping in view the rising inflation thus ensuring a big bonanza on the festival of Diwali. This pro- people initiative would benefit 69 lakh consumers out of the total 71.75 lakh domestic consumers of the State.
Making other development oriented announcements, the Chief Minister also announced Rs. 2.50 Crore for installing LED lights at Sri Chamkaur Sahib and disclosed that soon proertitery rights to villagers living in Lal Dora will given for which survey work is being Drone mapping is underway.
Besides, Channi also mentioned that the Foundation stone of Bela-Paniali bridge on River Sutlej would be laid on November 6 for which compensation at the rate of Rs. 70 lakh per acre would be paid to the farmers whose land would be acquired for the construction of the bridge.
Earlier, the Chief Minister paid obeisance at Gurudwara Sri Qatalgarh Sahib Ji and offered prayers for the well being and prosperity of Punjab.