Protesters demand monarchy in Nepal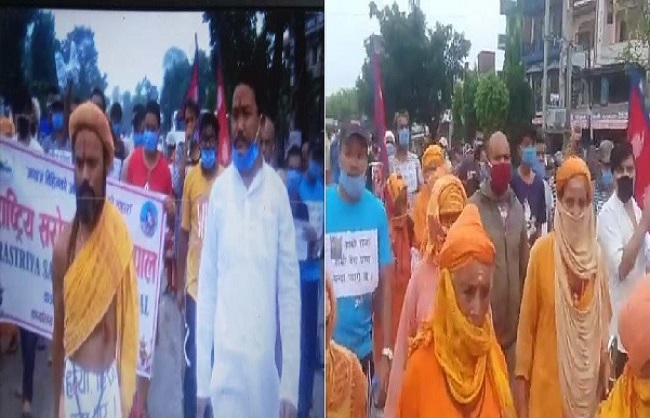 New Delhi, July 05, (HS)  In the wake of the ongoing dispute between Nepal and India over  Kalapani and the internal insurgency within the ruling party, the people of Nepal have raised their voice against the government and demanded monarchy over there once again.
On Saturday, activists of nationalist youth organisations along with saints led by Hindu leader Dhani Chand, demonstrated in Mahendranagar, the headquarters of the Kanchanpur district of Nepal.The protesters called Kalapani, Lipulekh and Limpiyadhura as the land of Nepal.
The troubles for Nepal's Prime Minister KP Sharma Oli are increasing day by day. On one hand, his own party leaders are targeting him and on the other hand, saints have also started protesting against him.
Oppressed parties have opened a front against PM Oli which is constantly trying to spoil Nepal's relations with India. Demand to restore monarchy in the country can become a big challenge for the existing democracy in Nepal in coming days.
According to reports, under the banner of Rashtriya Sarkar Manch, people of anti-communist and Hindu organisations took to the streets on Saturday demanding restoration of monarchy, opposing the republic.
Hindu leader Dhani Chand staged a strong protest against the government by raising slogans like 'stop violence, Kalapani Hamro Ho, Limpiyadhura Hamro Ho' and 'Raja Lao-Desh Bachao, Republic Murdabad, Communist Murdabad.' The protesters said that development of Nepal was not possible without monarchy.