Priyanka Vadra slams Yogi government over lack of health services in state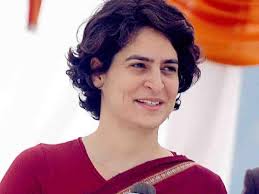 New Delhi, July 23 (HS) Congress General Secretary Priyanka Gandhi Vadra on Thursday slammed the Uttar Pradesh government over the issue of lack of availability of health services in several district hospitals of Uttar Pradesh.
She said that the view of the system in the Yogi government can be seen in Mahoba, where the water logging up to the level of knees could be seen in a women's hospital. The same pattern of chaos has been seen in Bareilly and Gorakhpur too, she said.
"Health facilities should be promptly available during the Corona time. But Mahoba's women's hospital is full of rain water. Besides, the hospitals in Bareilly and Gorakhpur have also been seen in the same disorder," Priyanka said.
The Congress leader surrounded the UP government saying that just making promises to the people will not work. The government should make better arrangements to combat Corona spread. She said that Yogi Adityanath, who has given a statement on health facilities in Lucknow, is hiding these conditions of hospitals rather than improving those.
Earlier, Priyanka Gandhi hit out at the Yogi government over the 'baby lockdown'. She had said that despite new experiments being made by the government in the state, the spread of Covid-19 can't be curbed. The government should tell the real reason behind these experiments to the public.