Print & Electronic Media Association J&K demands financial relief on same lines as given to advocates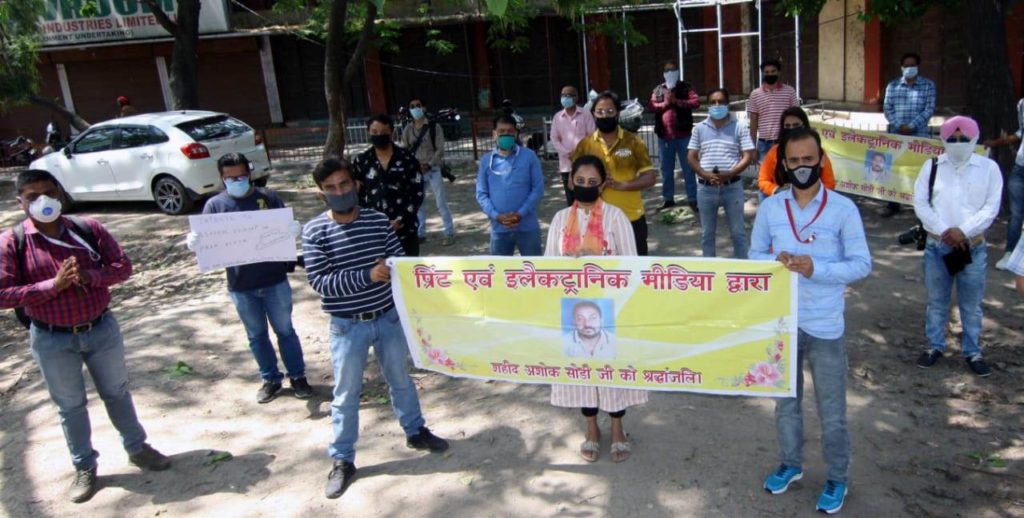 Jammu,11 May(HS): The J&K Print & Electronic Media Association on Monday remembered Ashok Sodhi on his 12th death Anniversary in a function held at the Exhibition Ground here. On the occasion, floral tributes were also paid to the Sodhi by the photojournalists and journalists.
Two minutes of silence was also observed by the members of the media fraternity while paying rich tributes.
Afzal Shah, President of the Association said that Sodhi had attained martyrdom while performing is professional duties during a fierce encounter in Samba on 11 May 2009.
While remembering the contribution of Sodhi towards the filed of journalism and, Shah said that by sacrificing his life in the line of duty Ashok Sodhi had inspired juniors to never compromise with their work. He said  Sodhi would be remembered for his contribution to photojournalism in the state by the coming generations, particularly by the media fraternity.
President, Print & Electronic Media Association, J&K has also  demanded a financial package  for the accredited journalists  similar to that had been provided to the advocates by the J&K Government.
He sought from the Lt Governor  J&K  Girish Chandra Murmu  financial relief to financially distressed, Journalists and photojournalists, who are facing a lot of problems due to coronavirus
He  also apprised the Lt Governor J&K  that all the accredited and non-accredited journalists are in  distress and they are severely hit due to ongoing coronavirus lockdown.
He said that journalists who were solely dependent on salary are worst hit due to lockdown. They requested the Lt Governor to urgently sanctioned financial assistance from them.
In his address, senior Journalist Sudhir Kumar told that since the journalists and  photojournalists  are fighting with the deadly virus shoulder to shoulder along with  health workers and police personnel and   helping the J&K govt in fighting with the virus.
The advisory of govt is reaching to the doorstep  of people due to efforts of these journalists and photojournalists.   He demanded free  medical treatment and test if unfortunately, any accredited journalist tested positive in J&K.
He urged the J&K government to take this as a special case for accredited  journalists and  Also non accredited journalists and provide the financial package similar to which has been extended to the advocates in Jammu and Kashmir.
Senior Journalist Sudhir Kumar advised all the photojournalists and journalists   who are attending this function to follow all  the guidelines  being issued by the Govt  of J&K to prevent themselves from the deadly disease Coronavirus.
He also requested all the colleagues to follow the social distancing and wear masks,  besides, washing hands frequently with the sanitizer or soap. Do not touch any railing in any complex, he added.