Prez Murmu's Suriname visit kicks off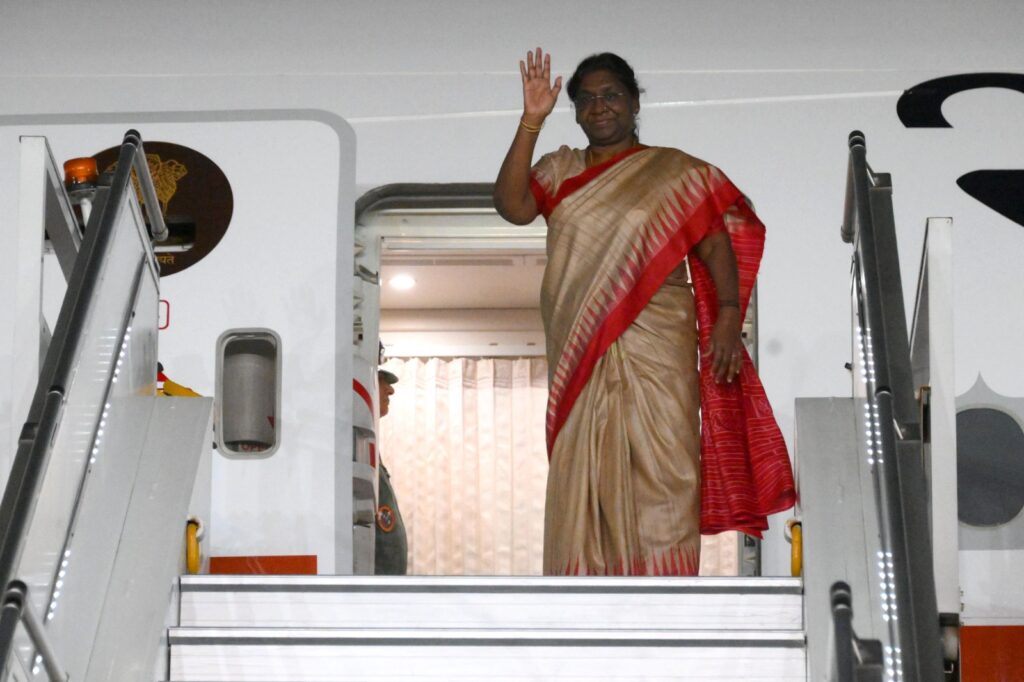 New Delhi, June 4 (HS): Suriname's visit by President Droupadi Murmu kicked off on Sunday. The President departed the country on Saturday for a six-day tour to Suriname and Serbia. This is the president's first state visit to Suriname, as well as her first since taking office in July 2022. President Murmu will visit Suriname and Serbia from June 4 to 9, according to Ministry of External Affairs (MEA) Secretary (East) Saurabh Kumar. President Murmu will pay a state visit to Suriname from June 4-6, at the request of Suriname President Chandrikapersad Santokhi, he added.
"This will be her first trip to Suriname. Her first state visit since taking office as President. The President's visit has historical significance because he will be the chief guest at the 150th anniversary celebrations of the arrival of Indians in Suriname, which will be held on June 5," the MEA Secretary (East) said at a special briefing on the President's travel to Suriname and Serbia. The President is accompanied by Sadhvi Niranjan Jyoti, union Minister of State in the Ministry of Consumer Affairs, Food and Public Distribution, and Shrimati Rama Devi, Member of Parliament, as well as an official delegation. The President will conduct official meetings with President Santokhi of Suriname.
During the briefing, Saurabh Kumar stated that the President "will participate in a number of activities commemorating the arrival of Indians in Suriname and visiting sites associated with their history in that country." The President will also meet with members of the Indian community. "India's last presidential visit to Suriname was in 2018. Relations between India and Suriname are warm and friendly, and they take on special significance because of the Indian diaspora, which accounts for more than 27% of the Suriname population," said the MEA Secretary (East). He stated that "bilateral relations between India and Suriname span sectors such as trade and commerce, development, partnership, capacity building, agriculture, and people-to-people ties. Suriname has been a staunch supporter of India in international forums."
"In Suriname, the Indian diaspora serves as a living bridge between the two countries. Despite the passage of time, the diaspora has kept Indian customs and traditions while incorporating local cuisines," he noted. "The invitation to the President to be the chief guest demonstrates the Republic of Suriname's goodwill towards India as well as India's growing influence and stature on the global stage," he added. "The President's visit also emphasises the importance we place on our relations with Suriname and the Indian diaspora worldwide. The visit will also provide new impetus and strengthen bilateral ties between India and Suriname," he added.
Murmu will visit Serbia on the next part of her tour, which begins on June 7. Serbian President Aleksandar Vucic sent her an invitation. President Murmu's travel to Serbia comes at a time when tensions in Kosovo, which proclaimed independence from Serbia in 2008, have been escalating in recent weeks. Several fights with demonstrators have been recorded following the installation of ethnically Albanian mayor in a contested election. The Ministry of External Affairs, however, has stated that India does not accept Kosovo's proclamation of independence and that the circumstances in the nation will not influence President Draupadi Murmu's travel to Serbia. "Well, we are aware of the recent disturbances in Kosovo, which is at the extreme southern tip of Serbia," MEA Secretary West Sanjay Verma said at a special briefing on the President's visit to Suriname and Serbia. ?We have no cause to be worried at this moment, as I repeat, that those occurrences would have any impact on my president's state visit, nor have the hosts intimated differently. On Kosovo, our position has been clear and consistent: we do not recognise Kosovo's declaration of independence. We, on the other hand, think that any disagreements must be settled via conversation," Verma remarked.
He expressed optimism that the recent incidents in the country will be handled amicably via discussions and that the situation will de-escalate. In response to a media question on whether the President's visit was scheduled prior to the political upheaval, Verma stated that it was. Serbia does not acknowledge Kosovo's sovereignty and enjoys the support of China, Russia, and five other EU countries that do not recognise the country.