Pompeo advocates better Indo-US strategic ties for mutual benefits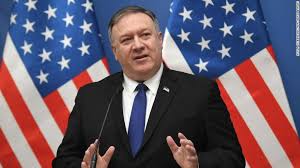 Washington , June 13 (HS): US Secretary of State Mike Pompeo will  visit to four countries such as India, Sri Lanka, Japan and South Korea from June 24 to 30. Pompeo said that we want to see the relations of India and America moving forward. He said that he is not surprised by the result of the recent Lok Sabha elections.
Pompeo said that Modi has made economic development of poor people, by providing electricity to those who did not have electricity and provided LPG gas cylinder , who did not have gas to cook. It is notable that in the Lok Sabha elections, the BJP has secured majority with 303 seats.