PM Modi to release 2,690 crore to 6.1 lakh PMAY-G beneficiaries of UP on Wednesday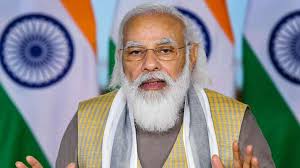 Lucknow, 19 January (HS) :     Prime Minister Narendra Modi will release financial assistance of Rs 2,690 crore to 6.1 lakh beneficiaries of Pradhan Mantri Awas Yojana-Gramin (PMAY-G) in Uttar Pradesh on Wednesday. The UP CM Yogi Adityanath will also be virtually participating in the programme.
According to a spokesperson of the state government the financial assistance will include release of first instalment of house construction to 5.30 lakh beneficiaries and second instalment to 80,000 beneficiaries. The PM will release the assistance digitally via video conferencing, he said.
The spokesperson said that the Central as well as the state governments are committed to prove roofs to the houseless people of UP. He said that the Yogi government has so far achieved significantally in this context. The Central Rural Development Ministry has given maximum nine awards to UP government for its better work under PMAY-G, he added.