PM Modi launches National Sickle Cell Anaemia Eradication Mission 2047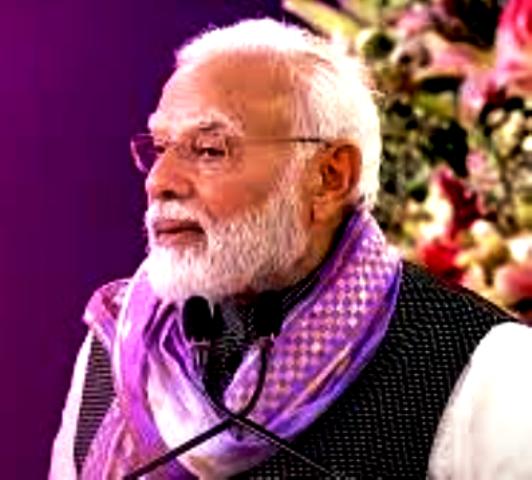 Bhopal, July 1 (HS): During his stay in Madhya Pradesh, Prime Minister Narendra Modi launched the National Sickle Cell Anaemia Eradication Mission 2047 by pressing the button of the remote at a huge public meeting held at village Lalpur in Shahdol district on Saturday. He then released the National Sickle Cell Guide. The Prime Minister launched the PVC Ayushman Card distribution drive, along with the distribution of Sickle Cell Genetic Status cards. union Ministers Faggan Singh Kulaste, Mansukh Mandaviya, and Arjun Munda were also present on the occasion. Presently, the public meeting is going on, and Prime Minister Modi is addressing the programme. After this, he will go to Pakaria village, where he will participate in the programmes of the tribal community. He will interact with the tribal community here. Will also have food with them.
Earlier, the Prime Minister came to Lalpur via helicopter from Jabalpur. As soon as he came on stage for the public meeting, the whole pandal echoed with the slogans of Modi-Modi. First of all, Prime Minister Modi paid floral tribute to the statue of Rani Durgavati on the dais. After this, Governor Mangubhai Patel and Chief Minister Shivraj Singh Chouhan welcomed him. Prime Minister Modi was presented with a tribal painting along with a rosary and a turban, a symbol of tribal faith.
In the programme, Chief Minister Shivraj Singh Chouhan said in his address that October 5 is the 500th birthday of Rani Durgavati. A huge memorial will be built for him in Jabalpur. During this time, many programmes will be held throughout the year.
Targeting the Congress, he said that the government of 1.25 years in the state did not make Ayushman cards. Prime Minister Modi wanted to treat the poor, but the Congress government became an obstacle. The Congress government was there for one and a quarter years. He did not even implement the Jal Jeevan Mission in Madhya Pradesh. Not only this, Congress and Kamal Nath returned more than 2 lakh Prime Minister's residences. After the BJP government came, 38 lakh houses were built for the poor. Ayushman cards are being distributed to the people. Congress also snatched one thousand rupees given to the women of the Baiga and Bharia tribes.
The Chief Minister said that by starting the Ladli Behna Yojana, we have started giving one thousand rupees to the sisters every month. The earlier government used to make the money meant for development disappear in between. Congress did not do any work. Whatever works of development have been done by the BJP government Prime Minister Modi has increased India's respect in the world today.