PM Modi holds high level meeting amid rise in Covid-19 cases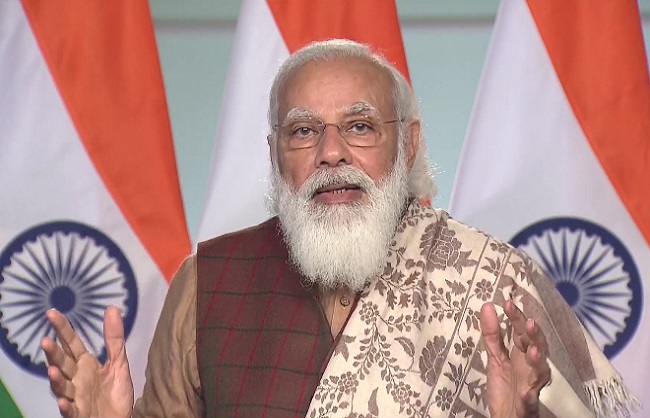 New Delhi, 04 April (HS): Amid the rising number of Covid-19 cases in the country again, Prime Minister Narendra Modi holds meeting with top officials in Delhi. The meeting has been conducted to review the current situation and arrangements made to curb the rising Covid cases.
According to the sources, the Cabinet Secretary, Principal Secretary to the Prime Minister, Health Secretary, and Dr Vinod Paul, a NITI Aayog member, were among officials attending the meeting.
Although the vaccination campaign is going on in the entire country, the rise in the cases of the Covid virus is a matter of concern. National capital Delhi has recorded more than 3,500 cases, its highest this year.
India recorded 93,249 new cases of the coronavirus disease (Covid-19) on Sunday which pushed the country's infection tally to 12,485,509. As many as 513 new fatalities were recorded between Friday and Saturday morning which pushed the death toll from the virus to 164,623.
Maharashtra on Saturday reported 49,447 fresh COVID-19 cases, the highest rise in a day so far, taking the tally to 29,53,523 while 277 fatalities pushed the toll to 55,656, the health official said. Maharashtra has reported largest number of cases among states and may soon announce fresh restrictions to contain the disease.
Globally, the confirmed cases of Covid-19 reached 131,332,990 on Sunday, as per data collated by worldometer. The tracker also said that as many as 2,858,518 people have succumbed to the viral disease and 105,719,924 have recovered worldwide from the corona infection so far. The US, Brazil and India occupy the first, second and third positions, respectively in terms of the caseload of Covid-19.
In other states like Karnataka, the state government has ordered gyms to be closed, barred functions at religious places and told cinema halls, bars, pubs and restaurants to limit the number of people allowed in.