Now, game over for BJP, says Akhilesh Yadav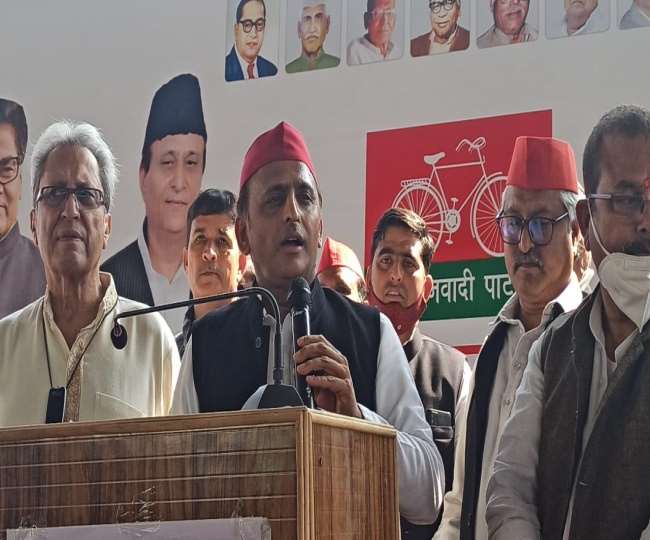 PRAYAGRAJ, Feb 22 (HS): Samajwadi Party chief Akhilesh Yadav arrived here on Monday to attend a private function held at the residence of former union minister, Salim Iqbal Shervani. He later held a press conference and claimed that every section of the society feels cheated by the BJP.
"The BJP does research in lies and spreads hatred among people. What is evident is that a few big business tycoons have been able to expand their corporate empires at a disproportionately fast pace in comparison to others, not so much on account of their entrepreneurial acumen but because of their proximity to the ruling dispensation. Today, our sovereignty, our natural resources, farming sector and indeed our youth are being sold to the famous few industrialists, who fund the BJP as long as they deliver policies that benefit them," he retorted while replying to the queries by mediapersons. Commenting on the 2022 assembly elections, Yadav claimed farmers, poor and the youth are uniting against the BJP and are with the Samajwadi Party.
BJP has only propagated lies and spread hatred in the society. Nothing has been done so far for farmers and youths. Now, the government has no time left and people of the state have seen what they did in the past four years," the SP leader said. "Khel khatam, paisa hajam (game over, money usurped). This was the fifth and last budget of the government led by chief minister Yogi Adityanath and his game is over now," he added.
He questioned the demolition of houses by UP government and asked under which law they are being razed. Akhilesh continued his attack on BJP over the issue of farm laws, charging that under its guise there is a conspiracy to grab lands of farmers. "We, who practice farming, very well realize the conspiracy of grabbing lands of farmers under the guise of farm laws by giving 'jumla' (false promise) of doubling the income. BJP is over now!," he prophesized.
"BJP hasn't done any work since the formation of government in the state, they are simply unveiling and inaugurating projects completed by previous Samajwadi Party government. The BJP has enacted demonetisation, GST, labour laws and farm laws to give benefits only to the billionaires. The BJP has tortured the common people. For the benefit of their dear rich friends and corporate sponsors, the BJP is trading a path which is against all – farmers, labourers, middle and lower classes," he alleged. He also expressed solidarity with boatmen community who have been victim of alleged police high handiness and said Samajwadi Party will provide them new boats and raise their plight, issues and rights in every step of the way. SP chief also visited the residence of former union minister Ram Pujan Patel who died on Monday morning and offered his condolences to the grieving family.