New 6-lane flyover between Kanpur and Prayagraj on the anvil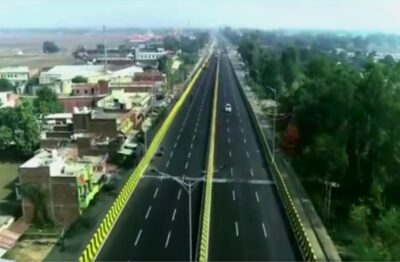 PRAYAGRAJ, September 1 (HS): A new flyover connecting Kanpur and Prayagraj is expected to open in roughly 6 months, improving connectivity in Uttar Pradesh. The new 6-lane stretch will allow for a speed restriction of 100 km/h, cutting the travel time in half to just 2 hours and 15 minutes. According to reports, this increased speed will be offset by a 20% increase in tolls. The National Highways Authority of India (NHAI) had given a 142-day deadline to construct the Kanpur-Prayagraj route following the first wave of coronavirus.
According to sources, the construction agency had requested extension of deadline from the NHAI due to difficulties experienced during the second wave. However, no such change has been implemented. Similarly, the project's NHAI study found positive results in terms of the project's completion within the allotted time frame. As a result, the project's deadline of February 2022 remains unaltered. After the Chakeri-Etawah highway, the 145-kilometer length is expected to be the second six-lane expressway in the Kanpur region.
Commuters would be able to finish their journey in just 135 minutes, avoiding traffic congestion and deviation. According to reports, vehicles travel from all towns mapping through the highway will be expedited through 48 future bridges. Until today, the two cities were connected by a four-lane highway that took roughly three and a half hours to drive one way. It should be noted that the journey from Kanpur to Prayagraj takes around 5 hours to complete due to current construction activity and multiple diversions.