Nepal builds another post along the border with Uttarakhand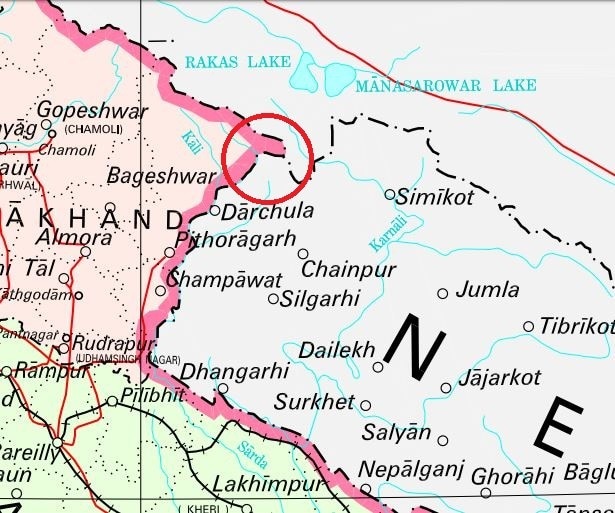 Dehradun, July 2 (HS)  After two weeks of Indo-Nepal border dispute, Nepal is building its fourth fully-equipped Border Observation Post (BOP) near Pancheshwar close to the International border. This is seen as part of Nepal's move to embolden its borders with India in the event of any eventuality. Indo-Nepal border dispute began when Nepal staked its claim on three Indian territories- Kalapani, Lipulekh and Lingpiyadhura- in Uttarakhand's Pithoragarh district.
The process of setting up BOP along the border has helped Nepal to intensify minute to minute monitoring on this side of the border. The under-construction BOP comprises one Inspector and 35 Jawans. This will be Nepal's fourth BOP in row after Khalanga, Changru and Jhulaghat near Pancheswar.
ITBP officials confirmed that Nepal's Inspecto-General of Armed Constabulary Force, known as Sahastra Prahari Force (SPF), Hari Shanker Joshi formally inaugurated the BOP at Pancheshwar on Wednesday. They also hinted at opening another BOP at Rollghat near Pancheshwar Dam shortly. Pancheshwar Dam is a multi-purpose Indo Nepal joint venture. This dam was commissioned over two years ago on Kali Nadi, flowing along both sides of Indo-Nepal border, to generate electricity and to cater drinking water needs of people of both sides of the border.
Interacting with journalists after the inaugural ceremony, a senior Nepali officer Amit Singh said, "The BOP at Pancheshwar, will also help in ensuring security of Pancheshwar Dam and bring down cases of smuggling and other crimes along Indo Nepal border."
Senior ITBP officials told Hindusthan Samachar, India' largest premier multilingual news agency, that Nepal has also beefed up Jawans of Sahastra Prahari Force (SPF) along both sides of Kaldi Nadi river to keep a close vigil along this side of international border.
According to the sources, India has presently 530 BOPs while Nepal has 129 BOPs along Indo-Nepal border. India has about 61 km areas at Nepal's Betri district, along the international border.
According to ITBP officials, ever since Nepal staked its claim on three Indian territories, it has set up an outpost at Changhru and deployed Nepal army jawans there. Official sources added that Nepal has also set up border outposts on six different spots at the bank of Kali Nadi river. Nepal has also built roads close to its last Changru and Tinker posts.