Nadda endorses Nitish as NDA election face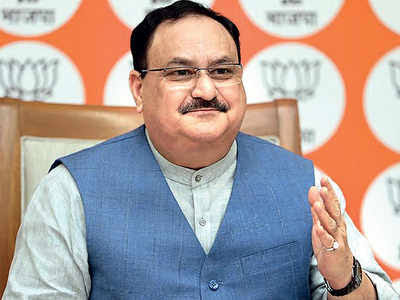 Patna, 23 August (HS) BJP president J P Nadda endorsed the leadership of Nitish Kumar by saying that NDA was going to election under the leadership of the Chief Minister and JD(U) president. Nitish has already been declared electoral face of the NDA by Nadda's predecessor and Home Minister Amit Shah more than once.
Addressing the concluding session of the BJP state working committee through a webinar,  Nadda called upon the BJP leaders and workers that they have to work not only for the party candidates but all the candidates of the JD(U) and LJP and ensure their victory. "We have to add value not only for BJP but our allies too," he said and added that with BJP, JD (U) and LJP together, the massive victory is ensured.
Hitting at the opposition, Nadda said it had become a spent force with no vision and it was indulging only in cheap politics. He said the BJP workers were ambassadors of change and claimed that they played key role in changing Bihar and would continue to work for its development.
Saying that election was a challenge like Covid and floods and the party workers will have to maintain all precautions while campaigning. He said door to door campaigning would be most effective and safest mode but they must reach all sections of the society and tell them what Prime Minister Narendra Modi did for Bihar through special packages which are being implemented in letter and spirit.
He said the Covid-19 was an unimaginable pandemic but the system even in big and developed nations had collapsed and they appeared helpless. But in this situation PM Modi showed tremendous vision and chalked out a strategy which has no parallel. "He led from the front with tagline : jaan hai to jahan hai" and saved the country from huge disaster by taking timely, bold and decisive steps and lockdown," Nadda said.
He added that initially  the country had no dedicated hospital for this pandemic but now we have 1500 dedicated hospitals, over 2000 testing facilities and 10 lakh testing per day and now recovery rate is 74 per cent.
Paying tributes to Bihar, he said this state always took lead in social and political revolutions. He said despite pandemic the BJP was in constant touch with people through virtual meetings and the Centre and state government worked tirelessly for the migrant workers and tried to minimize their woes.
Nadda said he would visit Bihar after September 6 when lockdown is lifted, to boost the morale of the party workers and energize them to fight the election. Earlier he was supposed to come here on August 29.
Earlier Bihar party in-charge Bhupendra Yadav attacked opposition, particularly RJD, and asked Tejashwi Prasad Yadav to learn what  the situation in Bihar before 2005 was and what welfare and development works were done in the 15 years when the NDA came to power.
"RJD is opposing our digital and virtual campaign. But what an irony that its leaders are opposing it through digital and virtual mode," he said.