Mysterious triple murder in Patna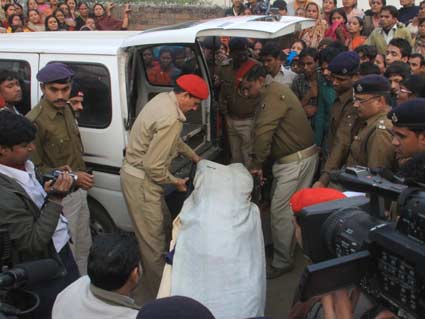 Patna,11 June(HS);Police on Tuesday morning found three bullet ridden bodies from a house in posh Kidwaipuri area .
According to a "suicide note" recovered from the bed room where the three bodies were found,Nishant Sharaf(37),claimed responsibility for the murders of his wife, Alka (35) and daughter,Ananya (9).Ishan,the four year old son,who also received bullet wounds is admitted in a hospital in critical condition.
Sunil Kumar, IG of police,who visited the house of the leading jewellery shop owner ,said Ishan is believed to have shot dead his wife and children with his US make revolver and then shot him self dead.
He said team of FSL was collecting evidences including "suicide note". Security guard, Rameshwar said he heard the sounds between 8 and 9 am and informed his family members.
Saraf family had returned from London last week after a long vacation.They had opened  a big show room of garments at Khaitan market in the town.