My mother always had the problem of Attitude- Ranu Mandal's Daughter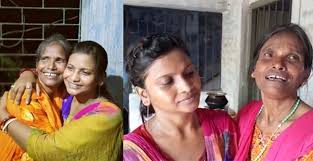 Mumbai, Nov 30 (HS): Internet sensation Ranu Mandal got the popularity as quickly as people trolled her. A few days ago, a makeover picture of Ranu Mandal was revealed in which she was seen with full makeup. Seeing this picture, a lot of fun was made of her in social media. Now, in support of Ranu Mandal, the statement of her daughter Elizabeth Saathi has come out in which she has said that her mother always had an attitude problem.
Recently, Ranu Mandal's daughter has given a statement in Ranu Mandal's trolling. In an interview, Elizabeth Saathi said, "I am very sad that she is being trolled like this. It is true that my mother always had a problem with Attitude, that is why she gets in trouble many times.
Saathi further spoke on Ranu Mandal's makeover, "was it necessary to walk her on the ramp, she is a singer, not a model. She belongs to a poor family. She is not ready for Bollywood glamour. She used to sing on the streets and suddenly she got fame, she did not get a chance for a makeover.
A few days ago Ranu Mandal shout on a woman fan seeking selfie by saying, "don't touch me", after which she was heavily trolled on social media. Her daughter Saathi said, "I think people are angry with her, seeing her attitude. People feel that they have also contributed to the fame that the mother has got, so they are trolling her by making memes on social media.