Monsoon reaches Bihar, Andhra Pradesh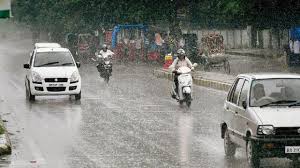 Delhi, Jun. 22 (HS): Southwest monsoon has entered Bihar and Andhra Pradesh giving relief to people from heat. Purnia of Bihar and Anantapuram of Andhra Pradesh receives the first monsoon rains. Several areas including Bihar's capital, Patna, are likely to have rain on Saturday.
According to scientists of Patna Meteorological Center, Purnea recorded a rainfall of 21.6 millimeters in the last 24 hours. Bhagalpur received 10.6 mm.
According to Meteorological Department, there is a possibility of heavy rains on Saturday in the interior regions of southern Karnataka, Konkan and Goa. It may rain in Tamil Nadu, Puducherry, Telangana, Marathwada, Chhattisgarh, Odisha, Assam and Meghalaya.
Mumbai Meteorological Dept Officer, KS Hoslikar told that the monsoon has reached the western and southern regions of Maharashtra. In the next few days, there is a possibility of good rainfall in the drought-hit areas of the state. Monsoon will also reach other areas of the state in two to three days.There is a possibility of rain due to heavy winds in Dehradun on 23, 24 and 25 June.
The Indian Met Department in Delhi, meanwhile, said that conditions are favourable for further advance of the southwest monsoon into remaining parts of coastal Andhra Pradesh, Odisha, Gangetic West Bengal, Jharkhand, Bihar and some parts of Telangana, Chhattisgarh and eastern Uttar Pradesh during next 48 hours.