Mississippi flag to be changed soon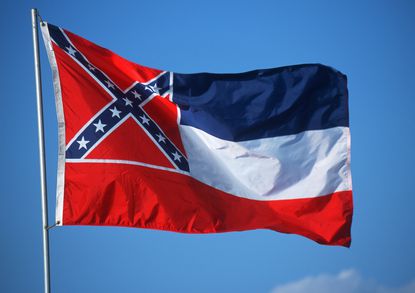 New Delhi, June 28, (HS) The Mississippi House of Representatives voted on a proposal on Saturday after which there's a possibility of removing the Confederate emblem from their national flag.  The Governor promised to clear the bill.
After the nationwide protests against racial injustice and police brutality following the death of a black man George Floyd in police custody, people have called for the removal of statues of confederates and other symbols of slavery in the US. 85 have voted for this proposal and 34 have voted against. A senate approval is needed on the proposal before being sent to the southern state's Republican governor for approval.
On Tuesday, the Mississippi Baptist Convention had called on state leaders to adopt a new flag, saying legislators had a moral obligation to remove the Confederate emblem from the state's flag as many people are hurt and embarrassed by it.
In the 19th century, the southern states opposed the possibility of ending slavery and separated from the United States by forming a Confederacy. This resulted in the Civil War of 1861–1865.