Mika Singh's manager commits suicide, Cremation in Punjab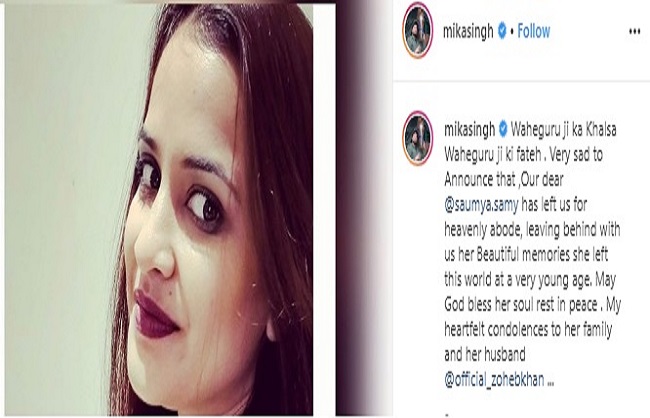 Mumbai, Feb 22 (HS): Singer Mica Singh's manager Soumya  Khan has committed suicide. 30-year-old Soumya Khan lived in Andheri in Mica's studio. Soumya's body was found in a room on the first floor of the studio. Overdose of sleeping pills has been reported to cause death. She has been cremated in Punjab. Police is investigating the case.
According to police, Soumya took an overdose of sleeping pills at Mika Singh's studio (Bungalow No. 19 in Andheri West, Mumbai), which led to her death. On Soumya's death, Mika wrote on Instagram – 'Waheguru's Khalsa Waheguru Ji's Fateh. It is very sad to say that our beloved Soumya has left all of us and gone to another world. She has left a lot of lovely memories behind her at a very young age. May his soul rest in peace. My condolences to her family and husband Joab Khan.
Soumya does not have parents and her grandparents live in Punjab. Her husband Joab Khan has written a post on social media about Soumya's death.  The reasons for suicide are  not yet known . A case of suspicious  death has been registered. Police have not recovered  any suicide note from Soumya posession.