Masood Azhar injured in blast in Rawalpindi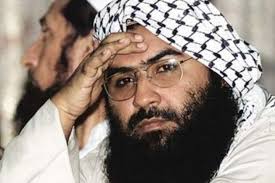 Rawalpindi, Jun. 24 (HS): In a blast occurred in Army Hospital in Rawalpindi the Jaish-e-Mohammad (JeM) founder and UN-blacklisted  Masood Azhar has been reported to be injured, a human rights activist from Quetta has informed it.
Pakistan is currently facing increasing  pressure from FATF, a global terror funding watchdog, to take measures for elimination of terror groups operating from its soil.The UN Security Council recently declared Masood Azhar as a global terrorist.
A human rights worker from Quetta, Ahsan Ullah MiaKhail, has alleged that the army has barred the media from covering the incident.He also claimed that UN-blacklisted terrorist and Jaish-e-Mohammed (JeM) chief Masood Azhar was admitted at the hospital where the blast occurred.
MiaKhail tweeted ,"Huge blast at Military Hospital in Rawalpindi, Pakistan. 10 injured shifted to emergency. Jaish-E-Mohammad Chief Maulana Masood Azahar is admitted here. Completely Media blackout by Army. Media asked Strictly not to cover this story," .