Manish Sisodia met Nirmala Sitharaman, sought a share in central taxes.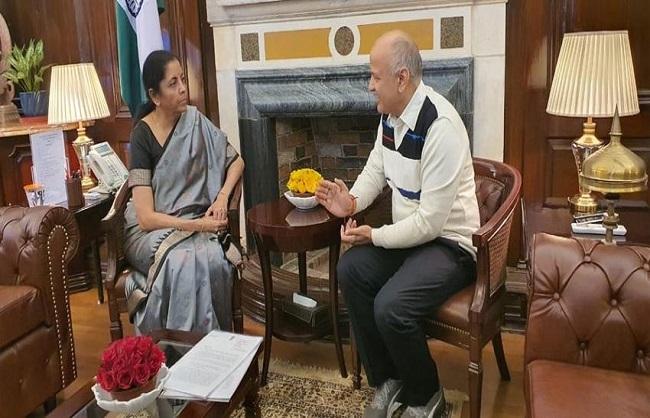 New Delhi, Feb 21 (HS): Delhi Deputy Chief Minister Manish Sisodia met Union Finance Minister Nirmala Sitharaman on Friday. Sisodia, who handled the finance department, asked for a share in central taxes for Delhi and demanded funding of MCD like other states.
This is Sisodia's first meeting with Nirmala after the formation of a new government in Delhi. Recently, CM Kejriwal had sought cooperation from Home Minister Amit Shah. The information about this meeting is shared by Sisodia on Twitter.
After meeting Union Finance Minister Nirmala Sitharaman, Sisodia tweeted. In his first tweet, Manish wrote, "After re-assuming the position of Finance Minister of Delhi met Union Finance Minister @nsitharaman Ji today. We had a positive discussion on cooperation for the economic development of Delhi." Pics of the leaders' meetings have also been shared with this tweet.
In his next tweet, Manish Sisodia has said that he has asked the Union Finance Minister for funds for MCD. Sisodia wrote on Twitter, "In the meeting with the Union Finance Minister, I also demanded funds for MCD in the same way as the central government gives (488 / – per capita per annum) to corporations of other states. Currently, there is no funding from the central government for the Municipal Corporation of Delhi. "
After this, in the next tweet, Manish Sisodia wrote, "I asked the Union Finance Minister for a share in central taxes for Delhi to open school-hospitals in Delhi, clean Yamuna, make electricity-water arrangements, etc. To get things done faster. "
In the fourth and final tweet, he accused the central government of writing, "Delhi has not been given any share in central taxes since 2001 by the central government. While 42 percent of central taxes are based on the recommendations of the Finance Commission, others All states are given. Before 2001, Delhi also used to get a share in it. "