Mamata blames Amit Shah for demolishing Vidyasagar statue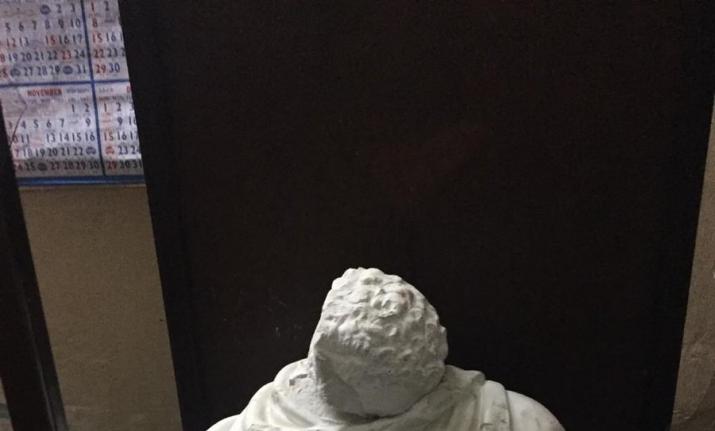 Kolkata, 11 June(HS): After installing the newly created bust of Pundit Iswar Chandra Vidyasagar,one of the greatest reformists and educationists of the 19th Century Bengal,at its previous site at Vidyasagar College,West Bengal Chief minister Mamata Banerjee today once again blamed Union Home minister and BJP All India President Amit Shah for demolishing  the previous statue during his Road Show about a month ago here.
'The new Union Home minister Amit Shah who is also the BJP President is solely responsible for the vandalism in which the previous statue of Vidyasagar was demolished about 27 days ago', the Chief minister said  after installing the bust at its previous place inside the Vidyasagar college campus in North Kolkata this afternoon.
Earlier at a function at the nearby Hare school, organised to mark the re installation of one bust and another life size statue of the great social reformist during the cultural renaissance of 19th century Bengal, the Chief minister continued her usual tirade against BJP solely blaming the party for allegedly creating disturbances in the state.
She also came down heavily on the Union Home minister and blamed him for allegedly instigating such violence.
'I shall not let Bengal to turn into another Gujarat(of 2002) and shall protect the rich socio-cultural ethos of the state till the last drop of my blood', she said without taking any name of the infamous incidents in Gujarat after the Godhra carnage.
Claiming that Bengal had given more honor to Mahatma Gandhi  than what has been given by Gujarat,the state of both Shah and Prime minister Narendra Modi, the Chief minister said her government was committed to ensuring that the legacy left by both Vidayasagar and Mahatma Gandhi was not forgotten by the present generation in Bengal .
 'We shall also install the bronze statue of Kazi Nazrul Islam as a mark of respect to the National poet of Bangladesh', she said.
Suddenly turning her attention towards Governor Kesri Nath Tripathi's  yesterday's meeting with the Prime minister and the Union Home minister in New Delhi,the Chief minister also vent her anger against the Governor's remarks that 12 people had so far been killed in post poll violence in the state and said according to intelligence report to her, so far only ten people had lost their lives and blamed the Governor for providing an inflated number to the union government. 'This is totally wrong', she said.