LPU scientist shares her patented herbal medicine of diabetes with 15 Nobel laureates in USA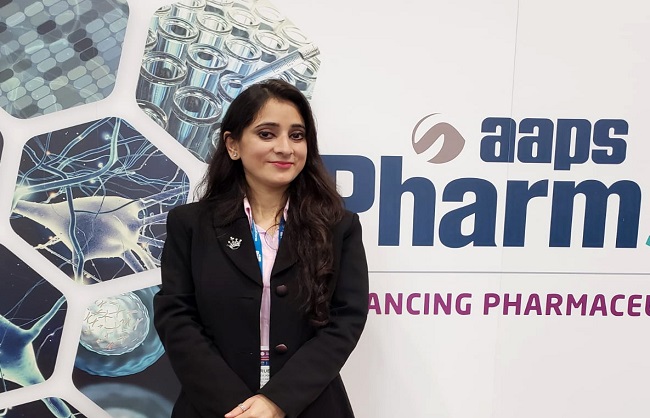 Jalandhar, Nov.21 (HS): A scientist at School of Pharmaceutical Sciences of Lovely Professional University (LPU), Rubiya Khursheed has shared about her patented herbal medicine with 15 Nobel Laureates, more than 6000 scientists and more than 600 Pharmacy Industry giants in America.
Occasion was world's most prestigious pharmacy conference 'AAPS (American Association of Pharmaceutical Scientists) PharmSci 360', held at Henry B. Gonzalez Convention Center, San Antonio (Texas) in the USA.
The scientific title of her work was "Exploring the role of Synbiotics as carrier to solidify Self-Nano emulsifying Drug Delivery System". For this important sharing, Rubiya was awarded with certificate of acknowledgement under the signatures of AAPS President Dr Dale Eric Wurster.
Rubiya also shared that the two important constituents of her medicine are easily available in the market- Haldi (Turmeric) and Friendly Bacteria (Pro-Biotics). To get the desired product, Rubiya enhanced the solubility of the two; made emulsion of these; and, increased the nature of their solubility for solidification and stability.
For these processes, she preferred non-toxic matter. Prior to her product, the dosage that used to be was of 500mg, which has now come down to mere 5 mg. Rubiya's medicine, which is totally non-synthetic and without any of the side-effects, is to control deadly considered 'Diabetes' disease.
Soon there will be commercialization of this patented medicine for the general benefit of humanity. Hailing from Bagh-e-Mehtab, Sri Nagar (J&K), Ph D scholar at LPU; Rubiya wants to contribute much in the name of LPU, which guided her to see her work gets recognition on a prestigious international platform.
She further wants to continue with her another important research on curing of cancer. She wants that all the medical formulations should be developed into very economical products so that all and sundry be able to use these in an easy manner. In fact, as a professional association, AAPS aims to increase the capacity of pharmaceutical scientists to develop products and therapies that improve public health.
Deeply interested in translational research, Rubiya too has a keen desire to develop formulations that could reach to the patients suffering from diabetes in an easy manner. Congratulating Rubiya for her socially useful product, LPU Chancellor Ashok Mittal inspired her to continue to be research oriented with such a temperament. The conference was also witnessed by top pharmacy industries including Pfizer, Lupin, AstraZeneca, Biocon, Evonik, Bruker, Perkin Elmer.
Her research work was well received and appreciated by the audience. Rubiya is currently working on development of Nano carriers for improving the oral bio-availability of probiotics under the supervision of Senior Dean Dr Monica Gulati and Dr Sachin Kumar at LPU. As a PhD Scholar at LPU, she has already published 9 important research papers in reputed international journals including 'Drug Discovery Today', 'European Journal of Pharmacology', 'Journal of Drug Delivery Science and Technology and more.