Let's extend our good wishes to all sportspersons in Olympics: Modi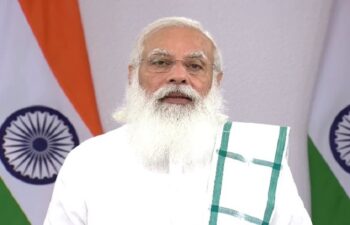 New Delhi, 25 July (H.S): Referring the first silver medal that India won in Olympics yesterday, Prime Minister Narendra Modi in his monthly radio programme, ?Mann Ki Baat? said that the 'Victory Punch Campaign' has already begun on social media.
The Prime Minister, "These sportspersons have reached where they are after overcoming numerous hurdles in life. Today, they possess strength of your love and support. Come let's extend our good wishes to all of them, encourage them." He urged people to share victory punch along with team and cheer for India.
He also remembered the Kargil war and said, "I wish you read the enthralling saga of Kargil, let us all bow to the brave hearts of Kargil." He further said that it is one symbol of bravery and patience on the part of India's Armed Forces which the whole world has watched.
He said, "At Tokyo Olympics, watching Indian sportspersons' march carrying Tricolour exhilarated not just me but the entire country, as if the whole country unitedly exhorted her warriors saying, 'Vijayi Bhava' (emerge victorious)!"
PM Modi urged countrymen to buy Khadi products and contribute towards a 'Bharat Jodo Andolan'. "National Handloom Day is coming up and let us do everything possible to further popularise handlooms in our lives. The success of Khadi over the last few years is widely known. You must have noticed that year 2014 onwards, we often touch upon Khadi in Mann ki Baat. It is only on account of your efforts that today, the sale of Khadi has raised manifold."
Mann Ki Baat is a medium where there is positivity and sensitivity, he said. The Prime Minister also mentioned about T.S. Ringphami, a young aeronautical engineer by profession who is involved in apple cultivation which is gaining significance in Ukhrul, Manipur and the farmers there are now cultivating apples in orchards. These farmers also went to Himachal Pradesh to take proper training. He also talked about number of young people who achieved good success in different fields.
Modi further said, "Friends, when one refers to the freedom movement and Khadi, remembering revered Bapu is but natural. Just the way Bharat Chhoro Andolan steered under Bapu's leadership, every countryman today has to lead a Bharat Jodo Andolan,? adding, ?In rural and tribal regions of our country, handloom is a major source of income. This is a sector that comprises lakhs of women, weavers and craftsmen. We can contribute to nation-building even while performing our routine chores…such as vocal for local.?
?Even small efforts on your part will give rise to new hope in weavers. Whenever, wherever you purchase a Khadi product, it does benefit our poor weaver brothers and sisters. That is why, in a way, buying Khadi is service to people, service to the country. I urge you, my dear brothers and sisters, to make it a point to definitely buy Handloom products being made in rural areas.?