Karnataka Chief Minister BS Yediyurappa announces resignation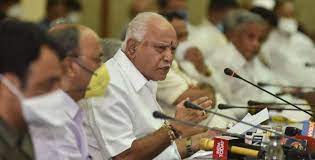 Bengaluru, 26 July(H.S): BS Yediyurappa, Karnataka Chief Minister today declared his resignation to the Chief Minister's post. He made the announcement at the function to commemorate the second year in power.
In this way, the high drama surrounding the continuation and replacement of the chief minister tenure has come to an abrupt end.
BS Yediyurappa,till late in the evening yesterday after returning from visiting the flood affectedflood-affectedareas in Belagavi district had claimed that he hasn't got any message from the high command yet. He had also made it clear, that he would abide by whatever decision the party conveys to him.
But to everyone's surprise this morning and that too amidst the function held on the eve of two years in office, in an emotionally choking voice BSY made the announcement almost in a crying manner.
At the same time, he claimed of doing so not with any regret but with happiness. Although the party has made it a policy of not entrusting power positions to those above 75 years, he was given a special provision to continue for two years. For such gesture, BS Yediyurappa described that words are failing to express his gratitude to Prime Minister, Amit Shah and Party President JP Nadda.
He made use of the occasion to recollect his and BJP's political history. He recalled the days, when it's a difficult time to get an audience to the party meetings and there were only two-party MLAs' in the state until bringing the party to the corridors of power.
He reminded of the instance, when the late Atal Bihari Vajpayee as Prime Minister had invited him to join the Central cabinet while he preferred to stay back in the state. He felt grateful to the Party for enabling a poor person from Bookanakere in Mandya district to rise to the position of a Chief Minister.
He later rushed to the Raj Bhavan and handed over his resignation to the Governor.