Kangana's mother Asha Ranaut attacks Shiv Sena, calls the party 'coward'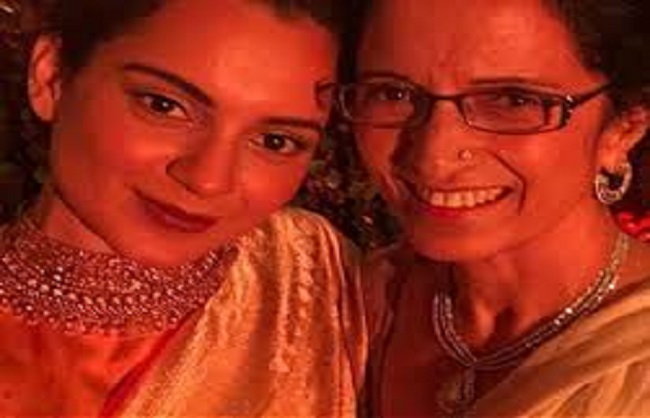 New Delhi, Sept 11 (HS) Bollywood actress Kangana Ranaut's mother Asha Ranaut on Wednesday hit out at Maharashtra Chief Minister Uddhav Thackeray after Shiv Sena-ruled Brihanmumbai Municipal Corporation (BMC) began the demolition drive at the property of her daughter in Mumbai.
Taking to Twitter, Asha Ranaut said: "Uddhav Thackeray, today you did not crush my daughter Kangana's office but the soul of late Bala Saheb ji Thackeray."
Speaking on the on-going tussle between Shiv Sena and her daughter in an interview, Asha Ranaut said- "If Kangana were wrong then the people of the country would not have been with her. India supports my daughter. Why this injustice? This is not Bal Thackeray's Shiv Sena, which we have been hearing since childhood. This Shiv Sena is a coward. What kind of government is this? India is watching how things are being done with a motive of taking revenge."
Referring to Shiv Sena leader Sanjay Raut's comments on Kangana, Asha Ranaut said, "Kangana is my daughter. How can he talk like this about her? Kangana never lies. I want to appeal to Shiv Sena not to do anything like this."
"Kangana will stay in Maharashtra. She has spent 15 years there, half of her age. Maharashtra is for all," Asha Ranaut further said.
She said, "My daughter has supported the truth. I thank Amit Shah and the Himachal Pradesh government, who have protected my daughter. What trouble do they have, if my daughter has got Y plus security? Don't they have daughters in their house. Who are they to talk such nonsense about my daughter? If my daughter did not have security, God knows what would have happened to her."
Kangana's battle with the Shiv Sena leaders started when she compared Mumbai to Pakistan-occupied Kashmir and criticised the Mumbai Police in a series of tweets.