Indian Youth Congress urges Rahul Gandhi to continue as party president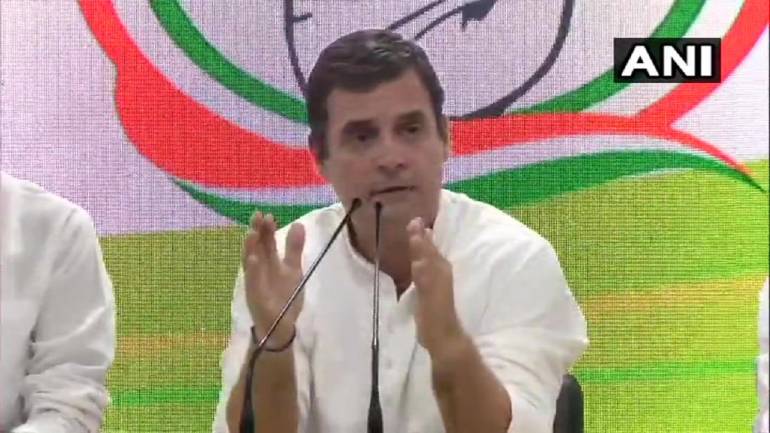 Indian Youth Congress urges Rahul Gandhi to continue as party president
By Shri Ram Shaw
New Delhi, June 27 (HS): Barely a day after Rahul Gandhi categorically reaffirmed his decision to step down as Congress president "to start a culture of accountability in the party", scores of workers and leaders of Indian Youth Congress (IYC) have appealed the Gandhi scion "not to leave the post and continue".
Amrish Ranjan Pandey, IYC, national spokesperson told Hindusthan Samachar, "At a time when the Congress party faced the biggest challenge and at a time when our country was battling to protect the idea of democracy, it was Rahul Gandhi who gave a bold leadership to Congress party for standing for truth, justice, unity and love."
"Now when we are in a path of struggle Youth Congress believes that it is Rahul Gandhi who should continue to lead the party from the front in its fight to protect the idea of India and democracy and to stand for the common man of our Country," Pandey added.
IYC president, Keshav Chand Yadav stated, "Congress has lost the election but our irrepressible courage, spirit for struggle and commitment to principles are stronger than before. Under the leadership of Rahul Gandhi, the Congress party is always committed to fight the forces of hate and division."
"Youth Congress wants Rahul to continue as party president as there is a need for a strong opposition. We have urged him to guide us further," Yadav added.
Youth Congress, vice president Srinivas B.V said, "As many as 12 Crore people have voted in favour of Rahul Gandhi. He must not quit from the post of party president and must lead the party from the front."
"Indian Youth Congress firmly believes that only Rahul is the most capable to give the leadership for a strong fight. Even though it's a fact that Congress party had suffered a setback at the national level, but this had happened in the past too, from where party had sprung back with renewed energy. The victory of communal forces has led to apprehension and concern in the minds of all those who believed in secular democratic values. In such a situation it is Rahul, who should lead the party from the front," Srinivas summed up.