India, Brazil signed 15 agreements in various fields..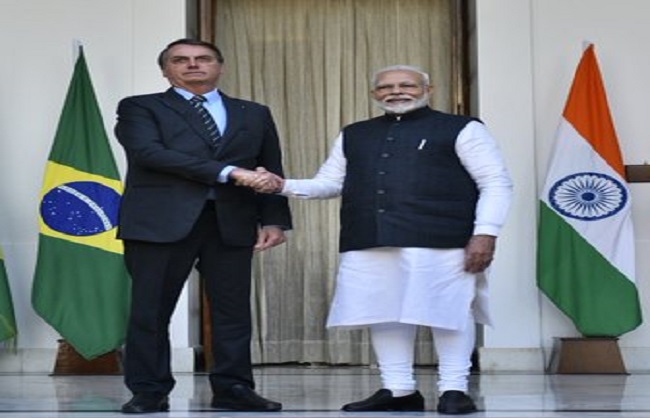 New Delhi, Jan 25 (HS): 15  Agreements related to mutual cooperation was signed between India and Brazil on Saturday. Brazilian President Jair Messias Bolsonaro is on a four-day state visit to India.
Agreements were shared between the two countries in the presence of Prime Minister Narendra Modi and President Jair Bolsonaro at Hyderabad House in Delhi. The agreements are related to cybersecurity, bio-energy, health, and medicines.
A total of nine MoUs were signed between the two countries. It is associated with the establishment of a nodal institute in India to conduct research on bioenergy, oil, and natural gas, early childhood, health and medicine, traditional medicine and homeopathy, cybersecurity, geology and mineral resources, investment, bioenergy.
A treaty was signed to facilitate investment between the two countries. A joint declaration has been made in the field of animal husbandry and dairy. There have been agreements on legal aid and social security in criminal matters. At the same time, both countries also agreed to conduct programs related to cultural exchange and scientific and technical cooperation during the period 2020-2024.
This is the third time that a Brazilian President will be the chief guest at the Republic Day parade and the first visit of Bolsonaro to India after he assumed office in January
Prime Minister Narendra Modi thanked President Bolsonaro for accepting the invitation to attend the Republic Day as the chief guest. He said that President Bolsonaro will see the cultural diversity of India on Republic Day.
At the same time, the President of Brazil said that 15 agreements have been signed between the two countries today. This will strengthen the bilateral relations between the two countries.